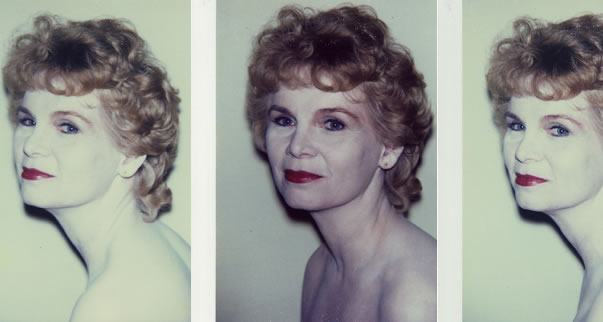 15 Minutes
A Donation from the Warhol Foundation of Andy Warhol's Photography
California Museum of Photography
January 31 - April 4, 2009
| | |
| --- | --- |
| Opening Reception | Saturday, January 31, 2009, 6pm - 10pm |
Especially in the 1,000s of color Polaroids he took, but also in his many black and white photographs, Andy Warhol was trying to fill the time. Warhol regarded modern life as a process of constant distraction in which a new scene - or even a whole new movie - came onto the screen every few minutes. The trick was to go with the flow, to let yourself be amused by it, or at least bemused in a detached, vaguely ironic way, in order to stave off the one looming threat to life itself: boredom.

"In the future", Warhol famously said, "everyone will be famous for fifteen minutes". Some of his formal portrait sessions with the Polaroid camera probably took no more than fifteen minutes. Yet the results have produced an enduring fascination with this artist who became the Master of Ceremonies of listlessness.

Photographer Pat York, whose portraits of Andy Warhol illuminate the exhibition of Warhol\'s own photography, has just published "Fame & Frame." Pat will sign copies of her new book at the opening reception for the Warhol exhibition.