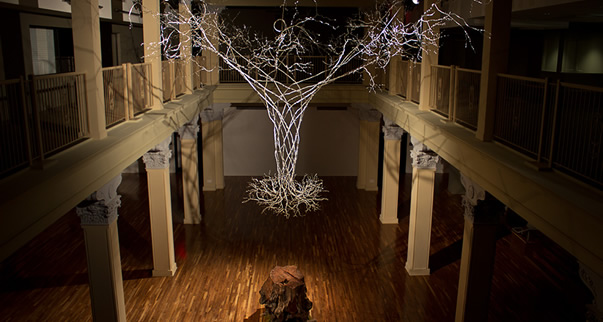 A Flowering Tree
Designed by Jeff Cain
Culver Center of the Arts
November 11, 2011 - January 7, 2012
The Flowering Tree is an installation designed originally as a set for the Riverside Lyric Opera's production of A Flowering Tree, an opera composed by John Adams in 2006 with Libretto by John Adams and Peter Sellers.

The opera is based on folklore from Southern India, and translated from the Kannada language by A.K. Ramanujan. The story centers around a beautiful young girl named Kumudha who discovers that she has the magical power to turn herself into a flowering tree. A young prince marries Khamuda out of his arrogant command, but the marriage later grows into a mutual love.

The prince's jealous sister forces Khamuda to transform, but ruins the ceremony of transformation and leave Kumudha as a distorted stump/torso with no hands or feet. Assuming his arrogance caused Kumudha to leave, the Prince becomes a mute beggar living in the street. After years of living separate and squalid lives, the two lovers are unknowingly reunited when royal servants find Kumudha as a singing stump in a traveling minstrel freak show and bring her back to the Prince to lure him from his supplication and misery. Once alone the two recognize each other, and are overcome with joy. He returns her to her human form and they can return to their life of marriage.

Jeff Cain designed this installation in response to the opera's central theme of transformation and for the theatrical lighting and performer's interaction to facilitate that transformation. When Kumudha became a tree she could sing standing on the stump with her body becoming the space between the stump and the hanging wire tree. When she was human, she would perform on the floor and the tree canopy would remain suspended and unlit with her magical potential silhouetted against the ceiling.