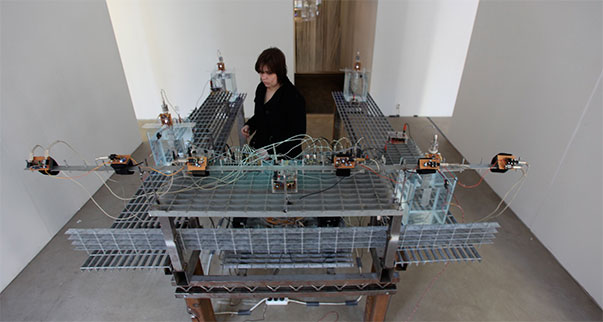 Area 51
A Sound Installation by Venzha Christ
Culver Center of the Arts
May 4 - June 1, 2013
| | |
| --- | --- |
| Reception | Saturday, May 18, 2013, 6pm - 9pm |
UCR ARTSblock's Culver Center of the Arts presents Area 51: A Sound Installation by Venzha Christ, a site-specific, new sound installation by Venzha, a visiting artist to the Music Department at University of California, Riverside from Indonesia and founder of HONF Foundation. He has created an installation in the Culver Center's Intermedia Studio based on his travels to the secretive U.S. military base, Area 51, also known as Dreamland, or Groom Lake, where he will make recordings of the sounds emanating from and around the base. Area 51 is located in the southern portion of Nevada. The base's purpose is officially undetermined; however, based on historical evidence, it most likely supports development and testing of experimental aircraft and weapons systems. The base has become well known due to conspiracy theories and its portrayal in movies, TV, and books. It is these secrets and ambiguities that Venzha explores in this new work created especially for UCR Culver Center of the Arts.

Venzha Christ, from Yogyakarta, Indonesia, is a prolific artist, initiator, and leader in media and art and science research. Focusing on media art since 1999, he created the HONF Foundation with the goal of fusing education, art and technology with local communities. He has produced and organized many projects such as public art installation, media performance, media art festival, technology and science research, video work festival, workshops, discussion, DIY gathering, electronic and media culture movements. Venzha is founder of HONF lab, electrocore sound project, C.O.S (Circle Of Satan), v.u.f.o.c lab, Micronation/Macronation project, etc. Venzha is director of YIVF (Yogyakarta International Videowork Festival) and CELLSBUTTON (Yogyakarta International Media Art Festival), which is produced and organized by HONF every year since 2005.

Area 51: A Sound Installation by Venzha Christ was organized by UCR ARTSblock and co-curated by René T.A. Lysloff, Associate Professor, Music Department, University of California, Riverside, and Tyler Stallings, Artistic Director, Culver Center of the Arts & Director, Sweeney Art Gallery, University of California, Riverside. UCR's College of Humanities, Arts, and Social Sciences (CHASS), Asian Studies, the Music Department, Center for Ideas and Society, and the MaryLu Clayton Rosenthal Endowment have provided support. Venzha Christ is the Rosenthal Scholar in Residence at UCR.

More information on the artist and his organizations
www.natural-fiber.com
www.honfablab.org
www.vufoc.net

Image caption:
Venzha Christ, BIO-DEVERSITY GENERIC SOUND CAPACITY (version_02), 2009, electromagnetic spectrum, signal From the South, Pixelache 2009, MUU gallery, Helsinki, Finland. Photo courtesy of Ville Hyvönen.