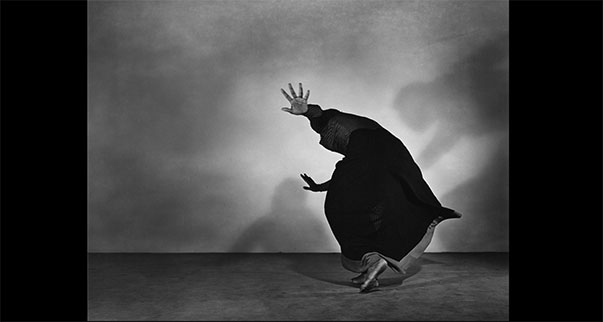 Barbara Morgan
Body Montage
California Museum of Photography
January 4 - May 17, 2014
American photographer Barbara Morgan (1900–1992) is most well known for her photographs of luminaries in American modern dance in the 1940s and 1950s such as choreographers Martha Graham, Pearl Primus, and Charles Weidman. She captured modern dance's sense of dramatic action characteristic of the time period through her intimate portraits of choreographers and dancers. Her use of shadow and curvilinear lines distilled American modern dance as expressing a youthful, exuberant spirit reflective of national attitudes.
While producing photographs of icons of American modern dance, she also produced a series of photomontages. In the 1940s, photomontage was an uncommon practice in American fine art photography. Aligned with Dada and Surrealism art movements, photomontages are composite images produced by layering several images on top of each other. She layered images of city buildings, parks, human bodies, and natural objects to make surreal, singular images.
This exhibition proposes aesthetic and conceptual relationships between Morgan's photomontages and dance photography. They synthesize movement, bodies, curving lines, and contrasting forms into expressive portraits of energetic action. Morgan abstracts the content of her images in both her photomontages and dance photography, so dynamic motion surfaces. Thus, Morgan's portrayal of repeating lines and abstract forms prefigures Minimalism in dance and visual arts.
The exhibition was curated by Harmony Wolfe, CMP Collections Assistant.
Barbara Morgan, Pearl Primus, Speak to Me of Rivers, 1944, gelatin silver print, gift of Mr. and Mrs. David C. Ruttenberg. (c) The Barbara Morgan Archives.