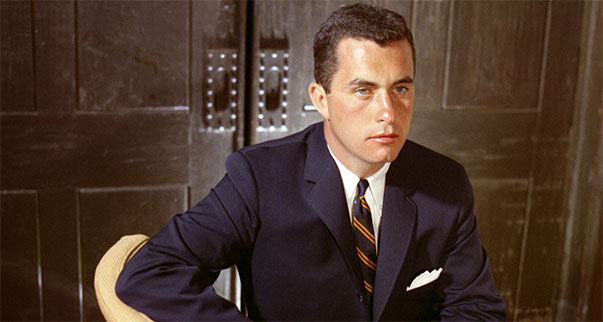 Christian du Bois Larson
In Their Prime: Photographs of Racing Car Driver Legends from 1960
California Museum of Photography
October 6 - December 8, 2012
| | |
| --- | --- |
| Opening Reception | Saturday, October 20, 2012, 6pm - 9pm |
In the fall of 1960 the spotlight of international road racing shone on Riverside International Raceway for two world class motor races: the Los Angeles Times-Mirror Grand Prix for Sports Cars, and the second ever U.S. Formula One Grand Prix. This attracted the participation of the world's most talented racecar drivers. In this era the stereotype of racers were akin to daredevils, thrill seekers, and speed demons. One knowledgeable photographer set out to correct this misinterpretation. Leveraging the backdrop of the Riverside's historic Mission Inn and asking the drivers to dress in their finest suits, photographer Christian du Bois Larson embarked upon documenting the formal and less public side of these distinguished gentleman racers. These portraits hung at the Mission Inn for some years until the hotel changed ownership and unfortunately were later lost to time. Now, decades later, through the attentiveness of the Riverside International Automotive Museum in Riverside, California, photographer Larson was contacted to recreate this exhibit of this important moment in history. ARTSblock in collaboration with the Riverside International Automotive Museum, is proud to return this distinct exhibition of international racing history to Riverside. RIAM is dedicated to "Preserving the Memory of California\'s Rich Motorsports Heritage."

Photographer Christian du Bois Larson and Doug Magnon, President of Riverside International Automotive Museum, will be present for the Reception.

In Their Prime will show Larson\'s twenty-two original portraits together with an action or informal shot of each driver. The show includes portraits of many driving greats including Bruce McLaren, Carroll Shelby, Dan Gurney, Jim Clark, John Surtees, Phil Hill, Roger Penske, Ron Flockhart, and Stirling Moss. This exhibition is curated by Jonathan Green, Executive Director, ARTSblock.