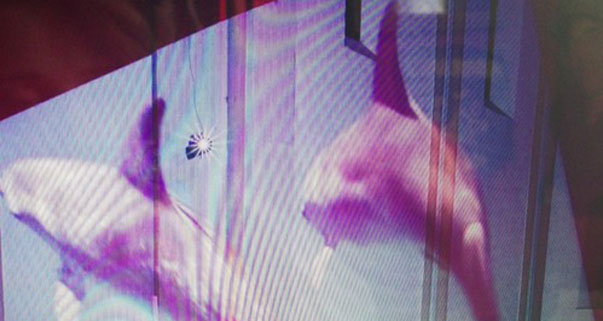 Digital Mural Projects: Diana Thater
Culver Center of the Arts
May 5 - June 1, 2014
Since the early 1990s, Diana Thater has created pioneering film, video, and installation-based works. Her primary emphasis is on the tension between the natural environment and mediated reality, and by extension, between tamed and wild, and science and magic. Drawing on a wide variety of sources, including literature, animal behavior, mathematics, chess, and sociology, her evocative and sometimes near-abstract works interact with their surroundings to create an intricate relationship between time-based and spatial dimensions. She frequently transforms the exhibition venue into a hybrid space between sculpture and architecture, using color and light alongside her installations. The work featured on the Culver Center of the Arts' Digital Mural is a new piece based on her residency and research on dolphins. This footage was included on the academy award winning film The Cove. http://www.thaterstudio.com/
ABOUT THE DIGITAL MURAL PROJECT
The Digital Mural Project at UCR ARTSblock's Culver Center of the Arts presents a series of changing projects on the two screens inside the façade's glass kiosks that face the pedestrian mall. These projects are an opportunity to extend ARTSblock programming into the public space.
The Culver Center Digital Mural Project Series is curated by adjunct media curator Jeff Cain. He is full time faculty at the USC Roski School of Art and Design, and director of the Shed Research Institute.
UCR's College of Humanities, Arts and Social Sciences (CHASS) and the City of Riverside have provided support.

Digital Mural Projects, a year long series, is curated by Jeff Cain.