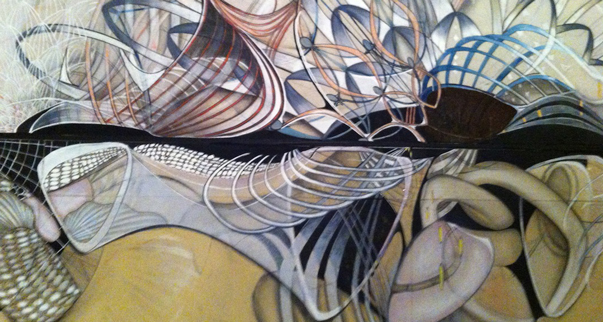 Different Particles & Indeterminate States
New Monumental Drawings by Amy Myers
Sweeney Art Gallery
October 10 - November 23, 2013
| | |
| --- | --- |
| Reception | Thursday, October 10, 2013, 4pm |
UCR ARTSblock's Culver Center of the Arts & Sweeney Art Gallery presents Different Particles & Indeterminate States: New Monumental Drawings by Amy Myers, the artist's first solo museum exhibition since returning to Southern California from New York. Myers uses charcoal, graphite and ink on paper to make intricate, monumental drawings that merge the microcosmic with the macrocosmic in a visionary blending of art, mathematics, and physics. Myers links sensuous materiality with an intellectual rigor, exploring through evocative drawings the illusive terrain of the most profound scientific explorations. Raised in an environment steeped in scientific inquiry--her father is a particle physicist--Myers grew up comfortable questioning the unpredictability and interconnectedness of nature and the universe. Since these formative discussions, Myers' work has incorporated and integrated esoteric notions of quantum physics, mathematical equations, and, most fundamentally, the evidence of an unmitigated experience of the possibilities of the human imagination in the mysteries of the universe.

Born and raised in Texas, Myers studied art and received her B.F.A. from the Kansas City Art Institute in Missouri and her M.F.A. from the School of the Art Institute of Chicago in Illinois. Her works are in numerous collections including the Solomon R. Guggenheim Museum, Museum of Fine Arts, Laguna Art Museum, and California State University Art Museum. She is represented by Talley Dunn Gallery, Dallas, Texas.

Different Particles & Indeterminate States: New Monumental Drawings by Amy Myers was organized by UCR ARTSblock and curated by Tyler Stallings, Artistic Director, Culver Center of the Arts & Director, Sweeney Art Gallery, University of California, Riverside. UCR's College of Humanities, Arts, and Social Sciences (CHASS) have provided support.

Artist website: http://www.amymyersdrawings.com

Image caption: Amy Myers, Hadronic Run, 2012, graphite gouache pastel conte on paper, courtesy of the artist.
CULVER CENTER OF THE ARTS and SWEENEY ART GALLERY