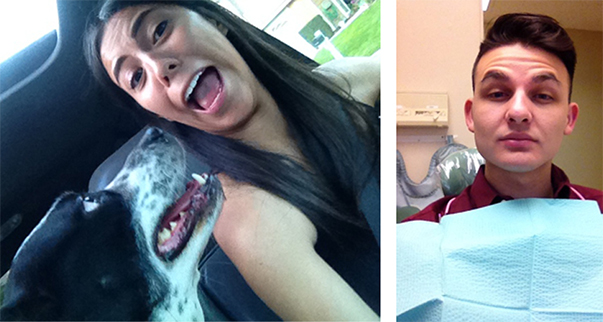 DO-IT-YOURSELFIE
Call for participation!!
California Museum of Photography
May 1, 2014
Free Admission
| | |
| --- | --- |
| One-Night Exhibition + Opening Reception | Thursday, May 1, 2014, 6pm - 9pm |
Submission process: April 4 – 20, 2014
DO-IT-YOURSELFIE is a project organized by UCR ARTSblock and UCR's Gluck Fellows Program for the Arts at UC Riverside that invites the community to partake in the "selfie" phenomenon and to take the concept into another dimension by exhibiting the images outside the confines of social media sites and into the physical public sphere in an art institution. UCR ARTSblock is putting out a call for you to submit your best and most creative selfie photo. Submissions will be juried by a panel and curated by the UCR ARTSblock Gluck Fellows. DO-IT-YOURSELFIE will be a collection of expressions and personae that will highlight the faces of the community in a large-scale projection rather than its typical repository in social network sites. Selfies selected into the project will be exhibited via large projection screen at UCR ARTSblock's California Museum of Photography.
In 2013, Oxford Dictionary announced "selfie" as the word of the year. As of the beginning of 2014, the "selfie" has been popularized beyond its association with social networking and has made its way through the social and pop culture circuit. They are often casual and are typically taken either with a camera held at arm's length or in a mirror. They are simple to create and share, and they give the "self-photographer" control over how they present themselves. A classic selfie includes solely the photographer or the photographer and as many people that can fit into focus.
DO-IT-YOURSELFIE is a UCR ARTSblock EXTRA CREDIT/First Thursday event and is supported by the Gluck Fellows Program of the Arts at UC Riverside. The Gluck Fellows Program is made possible by the generosity of the Max H. Gluck Foundation. DO-IT-YOURSELFIE is organized by UC Riverside Gluck Fellows, Andrea Brown and Minh Vo.
UCR ARTSblock has been the axis for presenting multiple eclectic arts "curriculum" that serve students from local schools and universities, as well as the general art-going public. EXTRA CREDIT aims to give the community a sampling of innovative and thought-provoking programs including art activities, dance and musical performances, workshops, film screenings, lectures, panel conversations, readings and gallery tours. These public programs are meant to supplement the assignments of students who are studying visual art or art history. It will also provide an instant visual culture course of sorts for students whose arts programs have been eliminated from their school curriculum.
SUBMISSION GUIDELINES
Photographs must be taken with a cellphone. No filters necessary
Please read the photo release statement on UCR ARTSblock site before submitting your selfie : www.artsblock.ucr.edu
One selfie entry per person
Deadline for submissions, April 20, 6PM
Send selfie to this address: gluckselfie@gmail.com
Please include your email address that you check regularly when you submit your selfie. Entries without email address will be eliminated from process
Participants will be contacted via email by April 25, 2014 if their submission was accepted into the project
Selfies accepted into the project will be on view for one-night only at the First Thursday ArtWalk event, May 1 at UCR ARTSblock's California Museum of Photography from 6-9 PM
PHOTO RELEASE AGREEMENT
I understand that any photograph, sound recording, motion picture, or video I submit is for the purpose of collecting and/or representing factual information in the interest of serving the University of California's mission of research, education, and public service, and for promoting the public good.
I hereby assign to THE REGENTS OF THE UNIVERSITY OF CALIFORNIA (the "University") all rights, title, and interest, including copyright, in and to any and all such photographs, sound recordings, motion pictures, or videos, and I hereby irrevocably authorize the University, its officers, agents, and employees, without limitation, to reproduce, copy, sell, exhibit, publish, or distribute, in any medium now known or later developed, any and all such photographs, sound recordings, motion pictures, or videos in perpetuity for the purposes expressed above.
I further release and forever discharge the University, its officers, agents, and employees from any and all claims and demands arising out of or in connection with the use of said photographs, sound recordings, motion pictures, or videos, including but not limited to any and all claims for invasion of privacy, defamation, or infringement of copyright.
I have read and understood the provisions of this agreement, and understand that I am free to obtain advice from legal counsel of my choice, at my expense, to interpret these provisions. By submitting this photo, I acknowledge that I have freely and voluntarily entered into this agreement.
PHOTOS OF SELFIES Courtesy of Justine Tolentino and Zaid Yousef.