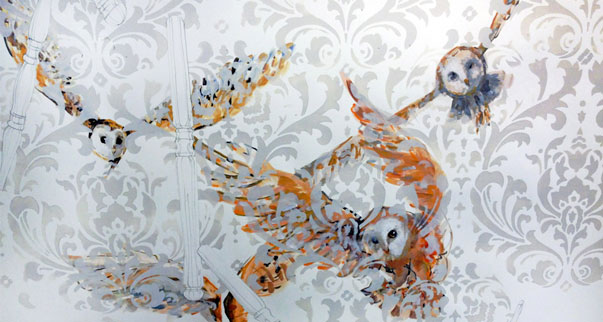 Domesticating Disturbances
New Work by Nathan Huff
Sweeney Art Gallery
June 24 - November 1, 2014
| | |
| --- | --- |
| Artist Reception | Saturday, July 19, 2014, 6pm - 9pm |
In Domesticating Disturbances, artist Nathan Huff transforms the ARTSblock's gallery spaces into visual recitals combining the existence of animals and the austere presence of everyday objects as nostalgic and psychological tropes. Huff's interest in the disconnection of two beings- living and non-living, is associated with his curiosity of whether "simpler times" can co-exist within or permeate in our "digital" life. He presents this paradox in a series of installations consisting of drawings, paintings and sculptures. The primal foundation in his installations are animals - bear, deer, owl and whale, that function as cultural archetypes. Much like Carl Jung's concept of the collective unconsciousness, Huff focuses on animals as central figures recollected in trauma, myths, dreams, as well as in art. The connection of the two existences continues as Huff interrupts the animal's habitat with sculptural objects and ultimately, placing them in juxtaposition within the domestic interior of a cultural institution.
Nathan Huff received an MFA in Drawing and Painting from California State University, Long Beach. He is currently Assistant Professor of Art at Westmont College in Santa Barbara, CA. He has been featured in solo exhibitions at D.E.N. Contemporary (West Hollywood, CA) and Gallerie View (Salambo, Tunisia). He has been in group exhibitions at JK Gallery (Culver City, CA), The Lillian Berkely Collection (Escondido, CA), Angels Gate Cultural Center (San Pedro, CA), Concrete Walls gallery in (Los Angeles, CA), Biola University (La Mirada, CA) and at the Istituto San Lodivico (Orvieto, Italy). In 2011, he was invited by the state department with Art in Embassies for the US Ambassador in New Zealand to create an exhibition "Encountering Place." He works and lives in Los Angeles and Santa Barbara.
DOMESTICATING DISTURBANCES: New Work by Nathan Huff was organized by UCR ARTSblock and curated by Jennifer Frias, Associate Curator, Sweeney Art Gallery, University of California, Riverside. Support provided by UCR's College of Humanities, Arts, and Social Sciences (CHASS), the City of Riverside, and Westmont College Professional Development Grant.
IMAGE: Nathan Huff "Fortunate Find," 2014. Gouache, graphite and acrylic on paper. Courtesy of the artist