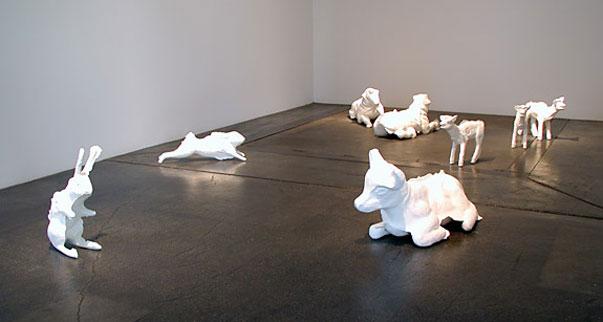 ESSENTIAL
Selections from the Permanent Collection Celebrates UCR Sweeney Art Gallery's 50th Anniversary
Sweeney Art Gallery
June 29 - September 28, 2013
| | |
| --- | --- |
| Closing reception (free admission) | Saturday, September 28, 2013, 6pm - 9pm |
ESSENTIAL: Selections from the Permanent Collection Celebrates UCR Sweeney Art Gallery's 50th Anniversary brings attention to the gallery's growing permanent collection, alongside the deep photographic collection at UCR California Museum of Photography (CMP), which celebrates its 40th anniversary this year too with an exhibition based on its permanent collection, Around the World in Forty Pictures.
The art gallery was established on UCR's main campus in 1963. It moved to downtown Riverside in 2006 to help form the UCR ARTSblock with CMP and Culver Center of the Arts. Selected works in the exhibition come from gifts by artists, collectors, and gallerists given since 2007 and onward. Many of the artists represented have been featured in past exhibitions at the gallery in this time period, in order to emphasize the evolution of the gallery since it joined UCR ARTSblock.
The works are organized in loose groupings that are not announced but are implied through the juxtaposition of works. Some of the guiding categories include Abstraction, Animals, Body, Borders, Photography Into Painting, UCR MFA Student Work, Works from Inland Empire-based artists, and Faculty from UCR. The artworks cover a variety of media ranging from video installations, drawing, photography, painting, sculpture, books, postcards, posters, and prints.
Artists who are represented include Marsia Alexander-Clarke, Tom Allen, Judie Bamber, Edward Beardsley, Tad Beck, Margarita Cabrera, Albert Contreras, Edgard De Souza, John Divola, Sean Duffy, Peter Edlund, Reanne Estrada, Fritz Haeg, David Leapman, Gabriela Leon, Peter Lodato, Jason Lutz, Rachel Mayeri, Christopher Russell, Dan Torres (El Daino), Rubén Ortiz Torres, Ann Phong, Perry Vasquez & Victor Payan, Alison Walker, Stephanie Washburn, and Yoram Wolberger.
ESSENTIAL: Selections from the Permanent Collection Celebrates UCR Sweeney Art Gallery's 50th Anniversary is organized by Sweeney Art Gallery @ UCR ARTSblock and curated by Tyler Stallings, Artistic Director, Culver Center of the Arts & Director, Sweeney Art Gallery, University of California, Riverside. UCR's College of Humanities, Arts, and Social Sciences (CHASS) and the City of Riverside have provided support.
The exhibition is dedicated to the memory of Marilyn Sweeney, who passed away on May 10, 2013. She and her husband, Jack, were major benefactors of the art gallery, along with supporting other UCR endeavors over the years. It is because of their support for which the gallery is named the "Jack & Marilyn Sweeney Art Gallery."



Image: Yoram Wolberger,
Petting Zoo, 2004
, cast plastic, UCR Sweeney Art Gallery Permanent Collection, gift of Mark and Hilarie Moore Collection.