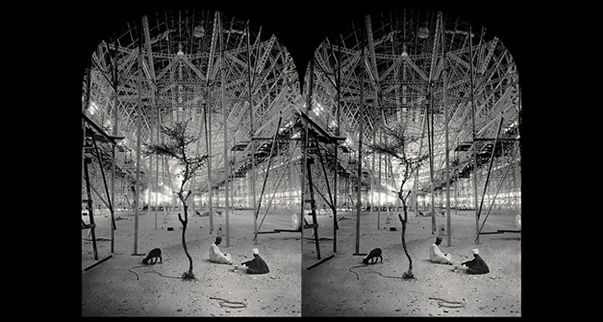 Ethan Turpin
Stereocollision
California Museum of Photography
January 14 - June 30, 2012
| | |
| --- | --- |
| Opening Reception | Saturday, February 18, 2012, 6pm - 9pm |
To make the "Stereocollision" series, Turpin digitally mixes images appropriated from antique 3D stereo cards to present intimate visual spaces where histories are compressed. Over the years, Turpin has been visiting UCR/California Museum of Photography's vast Keystone-Mast stereographic archive as one major source for his raw material from which to make his digital mash-ups. The 'Minor Miracle' set of wall-mounted pieces draw on the magic and weight of religious themes, using the classic double hump stereographic format on the scale of medieval diptychs. Viewers experience a 3D vision as they observe composite scenes of both natural disaster and spiritual harmony.

In his new series, "Stereocollision: The Gilded Garden", Ethan Turpin contemplates the ecological legacy of the second Industrial Revolution (roughly 1870-1930), when stereo photography was a mass medium. In scenes with mysterious causalities, Turpin visualizes karmic debt from the adventure and bounty of the period. By weaving fact and fiction, documentary and artifice, Turpin explores an intersection between optical and societal perceptions.

Organized by UCR California Museum of Photography, and curated by Leigh Gleason, Curator of Collections, California Museum of Photography.
UCR/California Museum of Photography