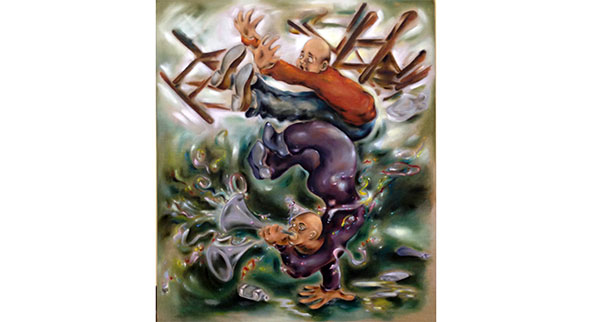 Figurative Languages
Recent Acquisitions to the Permanent Collection at UCR Sweeney Art Gallery
Sweeney Art Gallery
June 24 - November 1, 2014
| | |
| --- | --- |
| Reception, Free Admission | Saturday, July 19, 2014, 6pm - 9pm |
Figurative Languages: Recent Acquisitions to the Permanent Collection at UCR Sweeney Art Gallery presents the work of seven artists, working in painting, drawing, and collage, who are from throughout the U.S. and Canada, exploring creative approaches towards the figure. The seven artists, whose works are also in other prominent public and private collections, include Robert J. Brawley, Kent Anderson Butler, Matt Chambers, The Clayton Brothers, Neil Farber, Elizabeth Olbert, and Megan Williams.
Robert J. Brawley and Elizabeth Olbert are painters working in dialogue with a centuries old realist tradition. Brawley was a painter known for his hyperrealist still life and figure works utilizing highly charged symbolism, while Olbert is a painter known for her work depicting finely rendered, fantastical creatures who exist in an alternate, speculative world. Kent Anderson Butler, who usually works in video, has been exploring realism too, albeit with mail-order tapestries, in which he uploads digital portraits of friends and art world figures, letting the weave of the fabric create a digital, pointillist sensibility. Conversely to these artistic conversations with realism, several of the artists in the show employ cartoonish and pop culture imagery. Matt Chambers is a painter working in a faux-naïve style pulling subject matter from disparate sources such as junk mail and magazines. Neil Farber, also using a naïve style, creates drawings that recall storybook illustrations, yet alive with a cast of absurd characters. In a different vein of pop culture references, Megan Williams is a painter who uses cartoon imagery in her paintings that depict characters with riotous, bad mannered attitudes, while The Clayton Brothers, an artist team composed of brothers Rob and Christian Clayton, create paintings and installations that utilize bold, crisp colors creating settings populated with characters that evoke a modernist, illustrational style imbued with a disquieting psychology.
Works in the exhibition and the Permanent Collection at UCR Sweeney Art Gallery have been donated by Bernard & Peggy Lewak, Meg Linton & Marc Meredith, Mark & Hilarie Moore, Herbert & Lenore Schorr, and Susan Wunderlich. 
Figurative Languages: Recent Acquisitions to the Permanent Collection at UCR Sweeney Art Gallery is organized by UCR ARTSblock's Sweeney Art Gallery, and curated by Tyler Stallings, Artistic Director, Culver Center of the Arts & Director, Sweeney Art Gallery. Support is provided by the University of California Riverside's College of Humanities, Arts, and Social Sciences (CHASS) and the City of Riverside.
Image caption
Megan Williams, Brawl, 1999, oil on linen, 42 x 36 inches, gift from Bernard & Peggy Lewak. Permanent Collection of UCR Sweeney Art Gallery at UCR ARTSblock.