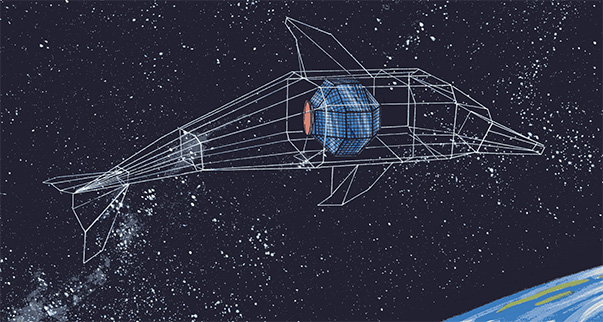 Free Enterprise
The Art of Citizen Space Exploration
UCR ARTS
January 19 - April 20, 2013
| | |
| --- | --- |
| Opening Reception | Saturday, January 19, 2013, 6pm - 9pm |
Free Enterprise: The Art of Citizen Space Exploration is the first contemporary art exhibition in the U.S. to present an international array of artists and organizations who are exploring the potential democratization of space exploration and the intersection between artistic production and civilian space travel. The possibility of fulfilling the human dream to fly into space has been encouraged by a major political and cultural shift away from state-sponsored space activities—which are controlled by agencies such as NASA in the USA, JAXA in Japan and RKA in Russia—towards a private enterprise model.

Free Enterprise has been in the planning stages since fall 2009. Its presentation in 2013 arrives at a time when several private enterprise ventures have come to fruition. They include the successful launch in May 2012 of the Falcon 9 vehicle and the Dragon space capsule by Space X, a company based in Hawthorne, California, which rendezvoused with the International Space Station; the soon-to-be-completed spaceport in New Mexico that will be the launch site for Virgin Galactic's space tourism program, and the burgeoning efforts of XCOR Aerospace, a Mojave based company represented in Free Enterprise. These developments are a clear sign that we are at a dawn of a new radical change in near-earth space exploration. Engaging artists directly in this discussion at an early stage is extremely important: it is the technology and capital that allow for exploration, but it is the imagination and the spiritual capital that create a new state of mind and allow for a broader awareness of humanity on Earth and beyond.

Free Enterprise is comprised of twenty-five artists, collectives, organizations, and initiatives, which includes several commissions for the exhibition and additions to the permanent collections at UCR ARTSblock: The Arts Catalyst (London, U.K.), Lowry Burgess (Pittsburgh, PA), Center for Land Use Interpretation (Culver City, CA), Richard Clar (Paris/Los Angeles), Skeith De Wine (Santa Ana, CA), Kitsou Dubois (Paris), eteam (New York), European Space Agency Topical Team Arts and Science (international participants), Final Frontier Design (New York), Cultural Center of European Space Technologies / KSEVT (Vitanje, Slovenia), Agnes Meyer-Brandis (Berlin), MIR - Microgravity Interdisciplinary Research (international participants), Forrest Myers (New York), Trieste Constructivist Cabinet (Italy/Slovenia), Nejc Trošt (Slovenia/Houston, TX), Trevor Paglen (New York), Carrie Paterson (Los Angeles), Frank Pietronigro (San Francisco), Bradley Pitts (New York), Cosmokinetial Kabinet Noordung – Postgravityart (Ljubljana, Slovenia), Projekt Atol Flight Operations (Santa Barbara, CA and Ljubljana, Slovenia), Connie Samaras (Los Angeles), Christian Waldvogel (Zurich, Switzerland), Arthur Woods (Zurich, Switzerland), and XCOR Aerospace, Inc. (Mojave, CA).

Free Enterprise is organized by UCR ARTSblock at University of California, Riverside. The exhibition is co-curated by Tyler Stallings, Artistic Director of the Culver Center of the Arts and Director of Sweeney Art Gallery at University of California, Riverside, and by Marko Peljhan, Associate Professor of Art and Media Arts and Technology at University of California, Santa Barbara.

Major support is provided by The Andy Warhol Foundation for the Visual Arts, University of California Institute for Research in the Arts, Projekt Atol, C-Astral, Republic of Slovenia - Ministry of Education Science Culture and Sport, City of Ljubljana Cultural Department, Moderna Galerija Ljubljana, French-American Cultural Exchange Program, City of Riverside, and UCR College of Humanities, Arts, and Social Sciences. Wendy Brown, Annick Bureaud, Greg Esser, Roger Malina, Azure Carter & Alan Sondheim, Dragan Živadinov, Miha Turšič, and Dunja Zupančič have provided individual in-kind support.

The exhibition is officially endorsed by The International Astronautical Federation Technical Activities Committee for the Cultural Utilization of Space (ITACCUS) and is part of Arizona State University's Desert Initiative:Desert One program.

Image captions:

Richard Clar, Space Flight Dolphin, rendering of deployed satellite/sculpture in low earth orbit, 1982. Illustration by Edgar Duncan.

Bradley Pitts, Still image from the video installation Singular Oscillations, 2008. Photo courtesy of the artist.
UCR Sweeney Art Gallery and Culver Center of the Arts North Atrium Gallery