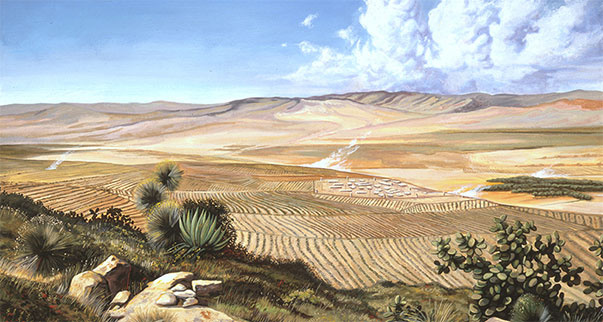 Geographies of Detention
From Guantánamo to the Golden Gulag
California Museum of Photography
June 1 - September 7, 2013
| | |
| --- | --- |
| Panel discussion | Saturday, June 1, 2013, 6pm |
| Special viewing of the exhibition | Saturday, June 1, 2013, 6pm - 9pm |
Presented on two floors of the California Museum of Photography, Geographies of Detention: From Guantánamo to the Golden Gulag offers a nuanced investigation into incarceration and its architectures. One portion of the exhibition highlights work by artists Sandow Birk, Alyse Emdur, and Richard Ross, each of whom explores different aspects of imprisonment. Films by Ashley Hunt, Setsu Shigematsu, and the Los Angeles Poverty Department are presented throughout the building. Through August 10, Geographies of Detention also includes the traveling exhibit the "Guantánamo Public Memory Project," an examination of the over 100-year history of the US naval station at Guantánamo Bay, Cuba.

Exhibition
The main gallery of the museum is devoted to the contemporary context and landscape of California's own "golden gulag." Prison populations in California have grown 500% in the last decades even as crime rates subside, and prison spending continues to outweigh state funding for public education. A selection of hauntingly evocative paintings by Sandow Birk from his series "Prisonation" (2001) reflects on the growth of California's prison industrial complex by engaging its geographic context. Taking inspiration from pictorial genres of landscape painting, including those popularized by the Hudson River School in the 19th century, each of Birk's paintings depicts one of California's state prisons, from Pelican Bay in Northern California to Centinela State Prison at the US-Mexico border.

While Birk's work shows the prisons from afar, Richard Ross and Alyse Emdur take the viewer inside these structures. In his series of photographs "Architecture of Authority" (2007), Ross explores the built environment of prisons, revealing the spatial logic used to exert power over the bodies incarcerated within. Emdur's large-scale photographs of prison visiting rooms and collected letters and snapshots (some of which appear in her 2013 book, Prison Landscapes) offer a more intimate vision of inmates posing with their visitors against murals in fantasy landscapes of freedom. Presented together, the works of Birk, Ross, and Emdur meditate on the "carceral state" of California.

Films
The theater company Los Angeles Poverty Department presents a portion of their "History of Incarceration" performance and media installation with a looped film (2010-11, 210 minutes). The film features 184 Californians reading the 184-page 9th Circuit Court of Appeals Plata-Coleman decision on overcrowding in California State Prisons in which the court declared that current conditions amount to "cruel and unusual punishment." The film will be played continuously on the Jumbotron screens on the facade of the Culver Center.

Visions of Abolition: From Critical Resistance to a New Way of Life (2011, 90 minutes), directed by Setsu Shigematsu, UCR Assistant Professor, Media and Cultural Studies, will be screened in the gallery. This documentary about the prison industrial complex weaves together voices of women caught in the criminal justice system with leading scholars and activists in the prison abolition movement.

A Prison in the Field (2001, 18 minutes) by multimedia artist Ashley Hunt is part of his ongoing "Corrections Documentary Project." Considering why, where, and how prisons get built in remote rural communities, the film follows grassroots activists who are fighting against the construction of a second prison in Delano, CA, on the grounds that prisons are a form of environmental and economic injustice.

Guantánamo Public Memory Project
The "Guantánamo Public Memory Project" combines historical and contemporary photography, film, and first-person audio interviews to examine how the naval base has been "closed" and reopened for more than a century before the attacks on September 11, 2001. These new perspectives on Guantánamo's history as a "legal black hole" provoke discussions about the limits of democracy and the meaning of mass incarceration in a global present and future.

Collaboratively curated by eleven universities (including UCR), the "Guantánamo Public Memory Project" is comprised of a deeply researched traveling exhibit, website, blog, curricula, and ongoing public conversation. First launched in 2009 by the International Coalition of Sites of Conscience and coordinated by Columbia University's Institute for the Study of Human Rights, the project was supported by the participating universities and by the Open Society Foundations, Libra Foundation, and the New York Council on the Humanities. The section created by graduate students in UCR's Public History Program (Leann Do, Jay Hartzell, Kristen Hayashi, Corinne Knight, Sean Milanovich, Karen Raines, Carolyn Schutten, Megan Suster, Jennifer Thornton, David Wagner, and Jennifer Weed) examines Guantánamo as an international symbol of America's War on Terror and a lightning rod for debates about torture, detention, national security, and human rights.

The "Guantánamo Public Memory Project" will be on view as part of Geographies of Detention through August 10, 2013.

Geographies of Detention: From Guantánamo to the Golden Gulag is organized by California Museum of Photography at UCR ARTSblock, and is guest curated by Catherine Gudis, UCR Associate Professor of History and Director of the Public History Program, and Molly McGarry, UCR Associate Professor of History.

Image: Sandow Birk, Pleasant Valley State Prison (PVSP) - Coalinga, CA, 2000 (detail). Courtesy of the artist and Koplin Del Rio Gallery.