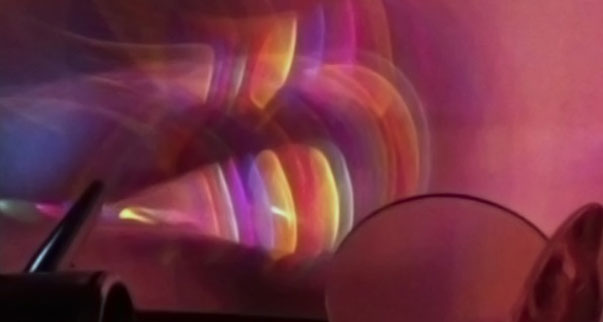 Susan Simpson: Infinite Interstitial
DIGITAL MURAL PROJECTS
Culver Center of the Arts
November 24, 2013 - January 4, 2014
"Sorcery works at creating around itself a psychic/physical space or openings into a space of untrammeled expression-- the metamorphosis of quotidian place into angelic sphere." -Hakim Bey
Infinite Interstitial is a response to the experience of living in an urban environment dominated by advertising. The objects in this sculpture are mainly wrappers and product containers found by the artist outside her yard. Through the use of the camera and lenses Simpson transforms garbage into an uncanny and mysterious digital billboard. Or in the artist's words, "It is a machine for colonizing the commercial with the irrational, the poetic and the personal."
Susan Simpson is an experimental puppet theater director, visual artist and occasional filmmaker working with miniatures; hand operated figures and manipulated video projection. Her practice often explores hand-made tactile objects in relation to more technologically based avatars and replicas. She uses puppets to create theatrical realism embedded in fractured narrative structures.
Simpson's work has been presented at HERE in New York, The Museum of Jurassic Technology, The Santa Monica Museum, REDCAT, The Great Small Works International Toy Theatre Festival, and at Automata, among other venues.
Simpson has taught courses in designing and directing performing objects at CalArts since 2000. Her writing on puppet theater has appeared in Puppetry International, Double, and Ecumenica.
Simpson's visual art, which often involves miniature environments and live feed video, has appeared in a number of group shows. A solo exhibition of her work was presented at the Sheehan Gallery at Whitman College in 2009.
Her puppet and toy theater design will be featured in The Last Act of Lilka Kadison at the Falcon Theatre in Los Angeles in February. For more information: www.susansimpson.info and www.automata-la.org.
The Digital Mural Project at the Culver Center of the Arts is organized by UCR ARTSblock and curated by Jeff Cain. Support is provided by UCR's College of Humanities, Arts and Social Sciences (CHASS).