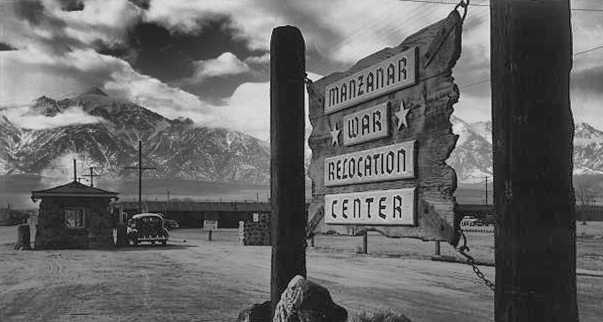 Interrogating Manzanar: Photography, Justice, and the Japanese American Internment
Photographs by Ansel Adams, Clem Albers, Dorothea Lange, and Tōyō Miyatake
California Museum of Photography
March 14 - July 18, 2015
| | |
| --- | --- |
| Curatorial Tour | Friday, May 1, 2015, 10am |
| Symposium, "Allies, Enemies, Citizens" | Friday, May 1, 2015, 1pm - 5pm |
The California Museum of Photography at UCR ARTSblock presents Interrogating Manzanar, an exhibition of photographs by Ansel Adams (1902-84), Clem Albers (1903-91), Dorothea Lange (1895-1965), and Tōyō Miyatake (1895-1979) taken at the Japanese American internment camp at Manzanar during World War II.

The bombing of Pearl Harbor by the Japanese Navy on December 7, 1941 sent the United States into a fervor of anger and hysteria. As some Americans drew together with a sense of patriotism and purpose, others looked toward the nation's Asian populations—especially those of Japanese ancestry—with renewed suspicion. On February 19, 1942, President Franklin Roosevelt signed an executive order permitting the military to contain and incarcerate any groups it deemed hazardous to national security. Within weeks approximately 120,000 persons of Japanese descent, most of them US citizens or legal immigrants, found themselves under orders of evacuation. Forced to liquidate their assets and relocate to remote Federal internment camps, these Japanese Americans faced both the physical hardships of incarceration and the moral violation of their rights as citizens and individuals.

Located on the dry and inhospitable eastern shoulder of California's Sierra Nevada range, the camp at Manzanar operated as a confinement site for more than 11,000 Japanese Americans. Manzanar was opened in March 1942 and not closed until November 1945, three months after the end of US hostilities with Japan. During the camp's operation, four leading American photographers—Ansel Adams, Clem Albers, Dorothea Lange, and Tōyō Miyatake—documented the physical, cultural, and psychological conditions of camp life. Their pictures capture a poignant and critical record of the Japanese American internment experience. Crafted from different angles, their combined work interrogates the complex human responses to internment's masked ideological underpinnings and obvious social injustices.

The 2015 Wong Forum on Art and the Immigrant Experience, "Allies, Enemies, Citizens: Figuring Asianness in World War II America," will be hosted by UCR ARTSblock in conjunction with the exhibition Interrogating Manzanar. The symposium will focus on the visual representation of Asianness and Asian-Americanness in the United States during World War II, and will feature presentations by leading scholars from across the nation.
Ansel Adams, Entrance to Manzanar, 1943 (detail)