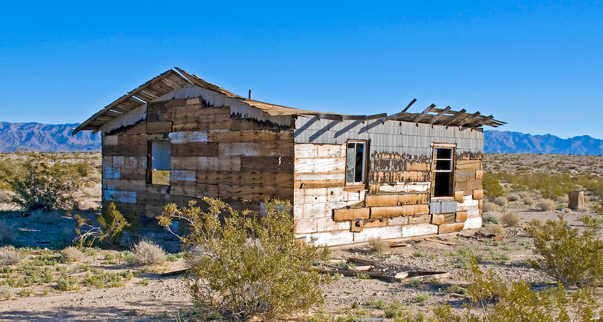 Jackrabbit Homestead
Tracing the Small Tract Act in the Southern California Landscape, 1938-2008, a project by Kim Stringfellow
Culver Center of the Arts
June 29 - September 28, 2013
| | |
| --- | --- |
| Closing events:<br />Panel discussion | Saturday, September 28, 2013, 3pm - 5pm |
| Closing Reception | Saturday, September 28, 2013, 6pm - 9pm |
UCR ARTSblock's Culver Center of the Arts presents Kim Stringfellows Jackrabbit Homestead, a published book, photographic exhibit, and Web-based multimedia presentation featuring a downloadable car audio tour exploring the cultural legacy of the Small Tract Act in Southern California's Morongo Basin region near Joshua Tree National Park. Stories from this underrepresented regional history are told through the voices of local residents, historians, and area artists - many of which reside in reclaimed historic cabins and use the structures as inspiration for their creative work. Beyond the proliferation of big box chains, car dealerships, fast food joints, and the nameless sprawl located along California State Highway 62 the desert opens up. Out there, where signs of familiar habitation seem to fade from view, a variance appears in the landscape in the form of small, dusty cabins - mostly abandoned - scattered across the landscape. The curious presence of these structures indicates that you are entering one of the remaining communities of "jackrabbit" homesteads left in the American West. The mostly derelict structures located among the occasional inhabited ones are the remaining physical evidence of former occupants who were some of the last to receive land from Uncle Sam for a nominal fee through the Small Tract Act of 1938.

Kim Stringfellow is an artist and educator residing in Joshua Tree, California. She teaches multimedia and photography courses at San Diego State University as an associate professor in the School of Art, Design, and Art History. She received her MFA in Art and Technology from the School of the Art Institute of Chicago in 2000. Her professional practice and research interests address ecological, historical, and activist issues related to land use and the built environment through hybrid documentary forms incorporating writing, digital media, photography, audio, video, installation, mapping, and locative media. Among other awards, she is the 2012 recipient of the Theo Westenberger Award for Artistic Excellence. Stringfellow's work has been exhibited nationally at many prominent museums. Her newest audio tour project titled, There It Is - Take It! was funded by the California Council for Humanities in 2011. She is an editor at ARID: A Journal of Desert, Art and Ecology and also writes about SoCal arts and culture for KCET Artbound. http://www.jackrabbithomestead.com

Jackrabbit Homestead: Tracing the Small Tract Act in the Southern California Landscape, 1938-2008, a project by Kim Stringfellow was organized by UCR ARTSblock and curated by Tyler Stallings, Artistic Director, Culver Center of the Arts & Director, Sweeney Art Gallery, University of California, Riverside. UCR's College of Humanities, Arts, and Social Sciences (CHASS) have provided support.

Image caption: Kim Stringfellow, T1N R11E SEC31 Lot 9 San Bernardino Meridian, California, U.S.A., 2008, photograph, courtesy of the artist.