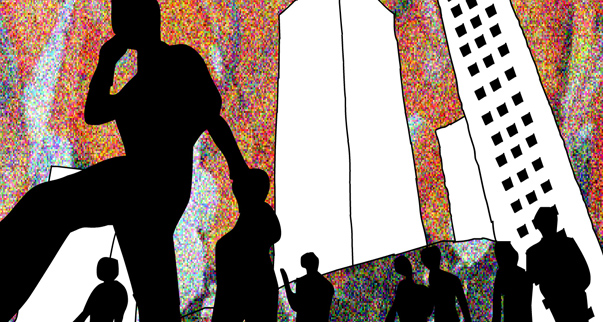 Jody Zellen: Here and Gone
Culver Center Digital Mural Projects 2015-2016
Culver Center of the Arts
April 11 - May 12, 2015
Admission to the opening reception is free to the public
| | |
| --- | --- |
| Reception | Saturday, April 11, 2015, 6pm - 9pm |
Here and Gone (2015) is a single channel video installation, featuring a pixelated scene of social unrest scrolling leisurely in the background while anonymous and oblivious figures are drawn over/into the frame, implying gesture and division simultaneously. Zellen captures these figures as they continue on their way- on the go, heavily involved in their own world, ignoring the diverse humanity that circulates around them in the public sphere.


Jody Zellen is a Los Angeles based artist who works in many media simultaneously making interactive installations, mobile apps, net art, animations, drawings, paintings, photographs, public art, and artists' books. She employs media-generated representations as raw material for aesthetic and social investigations. Her interactive installations include Time Jitters a commission for the Halsey Institute at the College of Charleston, SC, 2014, The Unemployed at Disseny Hub Museum in Barcelona in 2011 and The Blackest Spot at Fringe Exhibitions in Los Angeles in 2008. Most recently she has been making mobile apps. Urban Rhythms, Spine Sonnet, Art Swipe, 4 Square, Episodic, and Time Jitters are her six apps. They are available in the iTunes Store. 



The Culver Center Digital Mural Project 2015-2016 series is curated by Jennifer Frias, Associate Curator, Sweeney Art Gallery at UCR ARTSblock. The Culver Digital Mural Project at UCR ARTSblock's Culver Center of the Arts presents a series of changing projects on the two screens inside the façade's glass kiosks that face the pedestrian mall. These projects are an opportunity to extend ARTSblock programming into the public space. UCR's College of Humanities, Arts and Social Sciences (CHASS) and the City of Riverside have provided support.



(Image) Jody Zellen, "Here and Gone," (video still), 2015