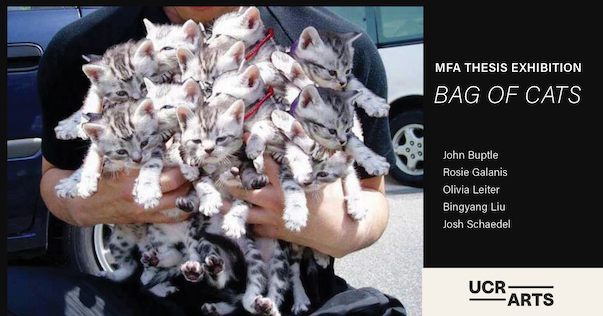 MFA Thesis Exhibition 2021: Bag of Cats
Culver Center of the Arts
May 13 - May 30, 2021
UCR ARTS presents the annual MFA Thesis Exhibition Bag of Cats, with works by five graduating Master of Fine Arts students in UCR's Department of Art: 
John Buptle
Rosie Galanis
Olivia Leiter
Bingyang Liu 
Josh Schaedel

These students join the ranks of Master of Fine Arts graduates from art departments and art schools across Southern California, a region that has become known for transforming its art students into major players on the international art scene. UCR's distinctive thesis exhibition offers our highly motivated students an off campus, public gallery setting to present an ambitious body of work, cumulating advanced art research and practice into a thesis project. The distinguished full-time faculty in UCR's Art Department includes Anna Betbeze, John Divola, Jill Giegerich (Emeritus), Jim Isermann, Brandon Lattu, Charles Long, Lynne Marsh, Yunhee Min, and Amir Zaki.



The exhibition is organized by UCR Department of Art and UCR ARTS. UCR's College of Humanities, Arts and Social Sciences and the City of Riverside have provided support.