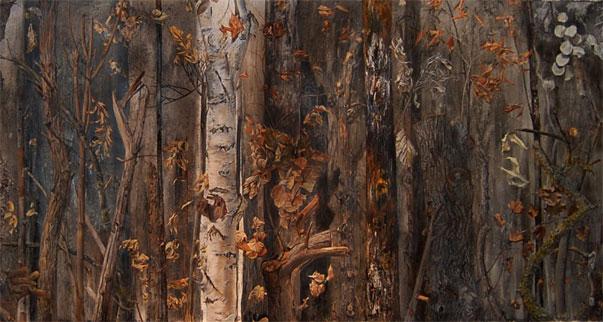 Matters of Decay
Paintings by Constance Mallinson
Culver Center of the Arts
June 9 - July 28, 2012
| | |
| --- | --- |
| Closing Reception with Artist Talk | Saturday, July 28, 2012, 7:00pm - 7:30pm |
Constance Mallinson uses the traditional genre of landscape painting to suggest a new way of looking at the world. For the last 25 years her large scale oil paintings have consisted of a unique painted "collage" technique in which she constructs panoramic landscapes from thousands of photo derived images via an Old Masters technique. In addition to expanding the traditional single view landscape to incorporate multiple views, perspectives, time frames, and narratives simultaneously, her paintings have dealt with the complex global environmental issues we are now facing. In the past few years, she has used her collage process and technical virtuosity to make large-scale paintings that merge the man-made world and nature literally by constructing figures from images of leaves, twigs, and decaying organic material. They are grotesque meditations on both the mortality of humans and the world in which they live. Her full-figured "nature people" reference both the works of Giuseppe Arcimboldo, the 16th-century Italian known for paintings in which still life objects are used to form surreal portraits, and famous paintings, such as Edouard Manet's 1863 seminal painting "Olympia."

In examining her recent paintings created from decaying matter, L.A. Times critic Christopher Knight wrote that "after painting savvy landscapes for more than twenty five years", the current "imagery suggests the way in which we project ourselves on conceptions of nature, creating the natural world even as we go about assuring its destruction."

Mallinson has had numerous group and solo exhibitions in galleries and institutions ranging from Ace Gallery, Santa Monica Museum, Los Angeles Municipal Art Gallery, Angles Gallery, and Pomona College Art Museum. She has been the recipient of a National Endowment of the Arts Fellowship, City of Los Angeles Artist Grant, and has attended residencies from the Djerassi Foundation to the Santa Fe Art Institute. Her work is represented in the collections of Los Angeles County Museum of Art, Orange County Museum of Art, San Jose Art Museum, Pomona College Art Museum and many private corporations and collections. She has also taught painting and theory at many major universities in California that include UCLA and Claremont Graduate University. In addition, Mallinson\'s criticism and writing has appeared in many art publications from Art in America to the current internet journal The Times Quotidian. More information on her work can be found at http://constancemallinson.net/.

Matters of Decay: Paintings by Constance Mallinson has been organized by Culver Center of the Arts, University of California, Riverside, and curated by Tyler Stallings, Artistic Director, Culver Center of the Arts & Director, Sweeney Art Gallery.


NOTE: There will be an artist talk on July 28th from 7 PM to 7:30 PM.