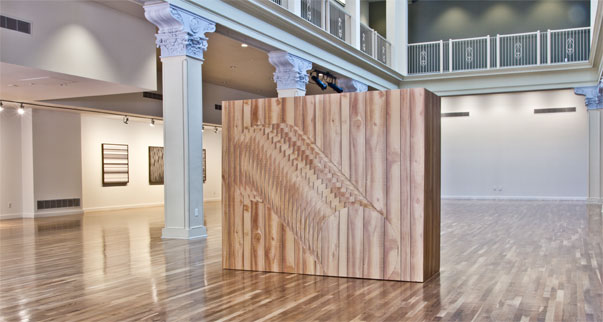 Michael Shroads
Drag & Logged Sculptures + Noise Drawings
Culver Center of the Arts
August 11 - October 7, 2012
| | |
| --- | --- |
| Closing Reception | Saturday, October 6, 2012, 6pm - 9pm |
Presenting commissioned work as part of the Culver Arts Research Laboratory (CARL) Residency program, Michael Shroads, presents new pieces from two ongoing bodies of work. It will be his first solo exhibition.

The Hello Wood series, a pun on the computer programming protocol 'hello world', are sculptures that are represented at the Culver Center by the monumental works, Drag and Logged (2012). This series is part of the artists long-term research in developing art and aesthetic theory from computational rules found in both the natural and digital environment. Logged and Drag represent two different approaches to formal experimentation through the work of computational algorithms, 3D modeling, and CNC (computer numerical controlled) fabrication techniques.

The work Drag was created by writing a very simple code that 'drags', through repetition, a simple cursor path. Each individual repetition is mapped and cut on a CNC machine, and then inlaid back into a plane of identical, artificial wood paneling. The effect of this repetitive visual information is somewhat like a hallucinatory frame lag and spatial distortion. Logged represents a playful reconstruction of plant morphology by clustering simulated logs into an algorithmic structure that mimics the architecture of vascular plant tissues. It is a kind of symbolic play on feedback systems in the natural environment.

The series of works on paper, Noise Drawings 1-3 (2012), are digital print outputs of a program written by the Shroads that used the Processing Development Environment Open Source Software. Altering variable frequencies of one algorithm, called Perlin Noise, generated the three works. This function was invented by software engineer Ken Perlin, who is best known for his groundbreaking special effects work on the feature film TRON (1982). His invention, Perlin Noise, is an algorithm for creating realistic textures in digital art and digital 3D models, particularly digitally modeled trees. In Shroads' Noise Drawings 1-3 the Perlin Noise function has been tweaked by amplifying the frequency of repetition of information along different axes (x, y), which results in the superposed parallel divisions in the images. The combination of these tightly dispersed breaks and the pseudo-random noise of the Perlin Noise function physically exhaust the viewers focused vision creating eerie perceptual distortions and unexpected movement in the still images.

Michael Shroads was born in 1980 Daytona Beach, Florida. He received his BFA at California Institute of the Arts in 2003. His work has been included in group exhibitions in Los Angeles and New York. He is in his second year of the MFA program in the Art Department at University of California, Riverside. More information on the artist can be found at http://michaelshroads.tumblr.com/.

Michael Shroads: Drag & Logged Sculptures + Noise Drawings is organized by UCR Culver Center of the Arts, and curated by Tyler Stallings, Artistic Director, Culver Center of the Arts & Director, Sweeney Art Gallery, University of California, Riverside. Ongoing support for programs at UCR ARTSblock comes from UCR?s College of Humanities, Arts, and Social Sciences (CHASS). Special thanks to the Culver Arts Research Laboratory Faculty Advisory Board, which consists of faculty members from seven arts-related departments in CHASS. More information on the board members may be found on the Culver Center website. Their primary responsibility is providing direction for Culver Center?s second floor Culver Arts Research Lab (CARL). It focuses on project development by UCR faculty, graduate students, and visiting artists, with the goal of presenting final projects to the public. Michael Shroads? project was one of several exhibition, performance, and film projects that were adjudicated in Fall 2011 that will have occurred between February 2012 and May 2013.