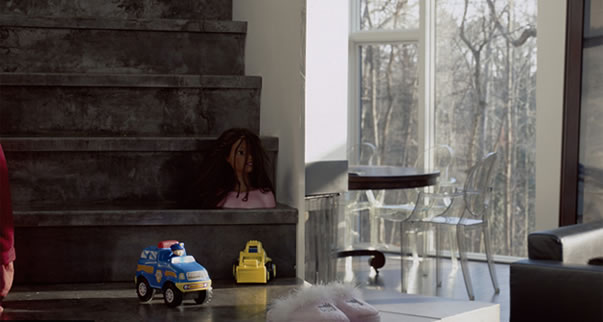 ON-SITE
Curated by Lisa Henry
California Museum of Photography
April 1 - August 22, 2010
| | |
| --- | --- |
| Opening Reception and Book-Signing | Thursday, April 1, 2010, 6pm - 9pm |
ON-SITE explores contemporary American landscape and domestic space using photography, video and new media. The four contemporary artists who have been selected to participate in the show have all undertaken long-term projects that investigate architecture and location throughout the United States. The exhibition features works by photographers are Susanna Pozzoli, Sheila Pree Bright, Stella Kalaw and video artist lauren woods. Their works illuminate the underrated genres of landscape and domestic space offering challenging visions of the 21st century built environment as it relates to personal geography. ON-SITE includes video and photo projects over a three-month period in the neighborhoods of Riverside and San Bernardino lead by Graduate Student Fellows at UCR.

Sheila Pree Bright lives and works in Atlanta. Her photographs have been exhibited nationally and her solo show Young Americans is currently touring the country. ON-SITE will feature images from Bright\'s ongoing series, Suburbia. These color photographs of suburban homes in Atlanta reflect each owner\'s personal style and sometimes reveal subtle expressions of cultural identity. Bright began the series in 2005 and continues to document the character and transformations taking place in and around suburban Atlanta.

Stella Kalaw is a Bay Area photographer who emigrated from the Philippines in the early 1990s. Since then, her work has focused on landscapes and interiors. Her images are quiet meditations on the challenges of being separated from her friends and family who now live all over he world. For ON-SITE her project Around Emeryville will be represented as framed photographs. This series documents a fleeting pastoral landscape that Kalaw witnesses occasionally on her drive in to work in San Francisco. Kalaw\'s treatment of ocean and fog is a way of examining the meaning of place in terms of boundaries and rootedness.

Susanna Pozzoli lives in Italy. She recently came to the United States as part of the Harlem Studio Fellowship program that brings international artists to Harlem, New York. Works from her fellowship year include color photographs of a wide range of Harlem interiors. Her project On The Block combines images of domestic, commercial and communal cultural spaces all located on a single block in Harlem.

Lauren Woods is a Bay-Area trained artist who works in video and installation. For ON-SITE, a video-projection will be displayed in the Digital Studio Project Room. woods has created an extensive body of work about location and identity in American cities including Oakland, San Francisco, New Orleans and Houston among others. ON-SITE will feature a chapter from her video series on New Orleans entitled When Nola Awoke.

Lisa Henry is an independent curator. Her most recent exhibitions include How Many Billboards? with MAK Center for Art and Architecture, OFF THE GRID & - Americans: The Photographs of Keliy Anderson-Staley at UCR/CMP, Connections at Jenkins-Johnson Gallery (SF/NY), and Blacks in and Out of the Box at California African-American Museum, Los Angeles.
UCR/CMP Digital Studio Gallery