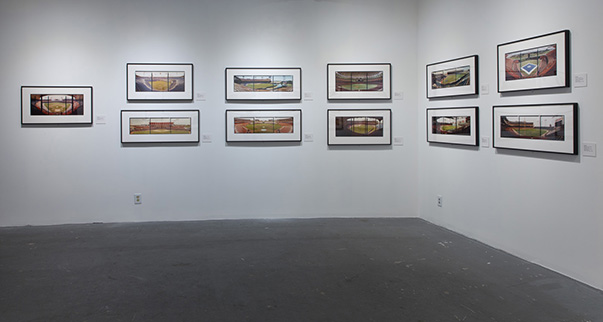 Out of the Park
California Museum of Photography
July 11 - October 3, 2015
This exhibition features work by Jim Dow and Mike Mandel in the CMP's newly renovated lower level gallery.
Photographed between 1980 and 1982, Jim Dow documented every active Major League Baseball stadium in panoramic triptychs.  Using a view-camera that produced 8x10-inch negatives, Dow carefully composed his shots so that the three images would produce a contiguous view of the stadium -- a process much more challenging than simply using a panoramic camera or putting our cell phones' cameras into "panorama" mode today.  Dow presents these photographs as contact prints placed side-by-side.  The result is almost seamless, punctuated only by the visible border of each negative.

Mike Mandel harnessed another familiar concept from baseball, the ubiquitous baseball card, in his "Baseball Photographer Trading Cards."  In 1974, Mandel traveled around the United States with baseball gloves, hats, and other equipment to make portraits of photographers and photographic curators and critics as if they were baseball stars.  True to the baseball card concept, Mandel populated the back with statistics about each subject.  Rather than hits, home runs, and RBIs, he collected data about their favorite camera, developer, paper, film, and photographer, as well as room for a short text.  Some photographers chose to leave the space blank; William Eggleston wrote, "No comment."  Others wrote about baseball, such as Joe Deal, who admitted that between the ages 7 and 12, he "dreamed that some day [he] would appear on a baseball card wearing a Yankees cap," as he did in Mandel's card.  

Both projects utilize baseball, yet neither are actually about the sport.  Dow's photographs all show empty stadiums, rather than the packed houses familiar to fans attending games.  Mandel's cards featured photographers, not athletes, although they provided many anecdotes about photography and baseball.  On his baseball card, photojournalist Cornell Capa wrote, "I do not play baseball, my batting tool is the camera.  Like in baseball, the perfect game/frame does not exist."  Several photographers, much like Joe Deal, wrote wistfully about their own relationships with the sport.  Both projects are deeply entrenched in the nostalgia of baseball -- Mandel through embracing baseball cards, most commonly collected and traded among children, and Dow, through stadiums that remind us of games seen decades ago.