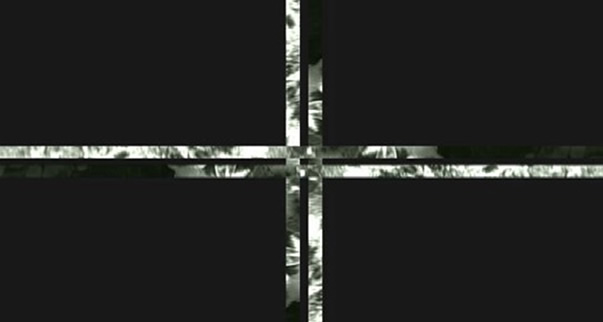 PASOS
Video Installations by Marsia Alexander-Clarke
California Museum of Photography
April 28 - September 22, 2012
| | |
| --- | --- |
| Reception with Artist Talk | Saturday, July 28, 2012, 5pm - 9pm |
PASOS: Video Installations by Marsia Alexander-Clarke is a solo exhibition that features a series of video works and digital prints on stretched canvas that are based on recorded imagery in Alexander-Clarke\'s garden. The images are made abstract via small cropped cells of recorded video material which Alexander-Clarke calls "marks" in loose reference to the mark in drawing and painting. Alexander-Clarke is interested in developing silent video pieces similar to notated musical compositions with the use of small fragments of recorded video material.

These marks are imbedded with a fleeting reference to nature yet present a deliberate suspension from expectation thereby creating a sense of tension between what is seen and not seen. The linear or rectangular marks are geometrical forms full of texture, color, movement and light. The video screen is used as a dark ground upon which the marks function interactively, developing varied relationships as they move and change through time.

The emphasis in these compositions is a focus on the interaction of the tension or harmony created by the marks internal texture and movement; on the marks placement, varying durations, and repetition and on the marks dynamic relationship to the "negative" space of the rectangular screen.

Alexander-Clarke is interested in creating complex compositions through the least means and building an atmosphere of attention to a totally visual experience.

"Through this work I hope to bring a sense of discovery and enjoyment in the expansive language imbedded in very simple forms."

Marsia Alexander-Clarke is a video installation artist with a background in painting and sculpture. After extensive studies in painting in New York City in the 1960\'s she moved to California where she received an MFA from Claremont Graduate School in 1974. At this time her two-dimensional work became three dimensional. In the late 1980\'s Alexander-Clarke attended video art and poetry workshops taught by Nancy Buchanan, and was an active participant in Studio X productions at the Pasadena Community Access Corporation in Pasadena, California. In 2001, she received an Individual Artist Grant from the City of Pasadena Cultural Affairs Division and the Pasadena Arts Commission. She has exhibited her work nationally and internationally.


Author Website

NOTE: There will be an artist talk on July 28th from 5 PM to 6 PM.