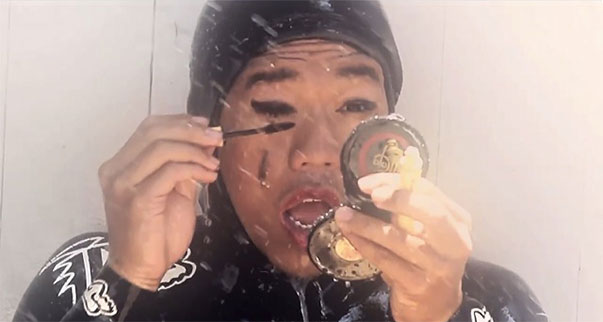 Queer Sites and Sounds
Culver Center of the Arts
September 4 - November 1, 2014
| | |
| --- | --- |
| One-Day Symposium, Free Admission | Thursday, October 16, 2014, 12pm - 7pm |
| Reception, Free Admission | Thursday, October 16, 2014, 7pm - 8pm |
Drawn from the Center for Art and Thought's virtual exhibition, Queer Sites and Sounds explores the possibilities of queer engagement across multiple virtual spaces and showcases queer new media and digital interventions The works included here and online challenge and exceed how Filipino bodies, affects, and processes are conventionally understood and how they are entangled with other queer bodies and practices virtually and offline.
The Internet, which is seemingly boundless in its sublime scope and its spatial dimensions, is ironically replete with social and communal boundaries: some cohere normative modes of communality, while others de-center or unsettle real-time or real-world social relations and expectations. Even at its most evanescent, the virtual is never detached from the offline world and vice versa. Queer Sites and Sounds starts with the premise that, as José Muñoz writes in his book Cruising Utopia, "'queerness' allows us to question or even feel that, in this globalized digital and new media present, something is amiss ... something just doesn't feel right, but that's alright."
Queer Sites and Sounds is a timely exhibition in that Filipino queer digital and new media cultures continue to be an understudied field, despite the saturation of digital and new media technologies within the Philippines and throughout the diaspora. Though there have been Filipino Internet ethnographies prior to Web 2.0 as well as seminal studies of race online, Filipino queer digital and new media cultures represent a highly focused area of cultural phenomenon that is in need of intellectual and creative interventions. 
Many questions are ripe for exploration: How does the exchange of information within the Filipino diaspora via the Internet unsettle or perhaps affirm Western notions of gender and sexuality? How might we think of the ontologies of digital and media technology as always already queer? How do Filipino queer digital and new media practices overlap other queer communities of color? How do we study these queer diasporic digital entanglements? How might we deploy queer as an analytic frame to discuss the forms which content takes—forms that go beyond the expected, that make us scratch our heads, that leave us feeling unsettled or that something is indeed amiss?
The Queer Sites and Sounds exhibition at Culver Center of the arts features work by Eliza Barrios, Kiam Marcelo Junio, Kat Larson, Miguel Libarnes, Gina Osterloh, Jeffrey Augustine Songco, and Ronaldo Wilson. Works by additional artists may be found online at www.centerforartandthought.org.
Starting from the perspectives of Filipinos around the world, the Center for Art and Thought harnesses the potential of digital and new media technologies in order to foster dialogues between artists, scholars, and the broader public.  A web-based nonprofit organization, we believe that the convergence between art and critical thought is a crucial way to generate new modes of knowledge production and creative and critical lenses for understanding and transforming global conditions. 
Queer Sites and Sounds is presented at UC Riverside's ARTSblock's Culver Center of the Arts. The exhibition has been curated by Jan Christian Bernabe, the Operations, New Media and Curatorial Director for the Center for Art and Thought, along with assistance from Clare Counihan and Matthew Andrews. Support for the exhibition has been provided by the California Institute of Contemporary Arts, UC Riverside's Queer Lab, UC Riverside's Department of Media and Cultural Studies, and donors to the Center for Art and Thought. General support for UCR ARTSblock programs has been provided by UC Riverside's College of Humanities, Arts, and Social Sciences, and the City of Riverside.
Schedule for One-Day Symposium, Free Admission, Thursday, October 16, 12pm-7pm
12:00-12:15          Opening remarks by curator Jan Christian Bernabe
12:30-1:30            Gina Osterloh, artist
1:45-2:45              Kiam Marcelo Junio, artist
2:45-3:00              Coffee break
3:00-4:00              Jeffrey Augustine Songco, artist
4:15-5:15              Ronaldo Wilson, artist
5:30-7:00              Closing roundtable discussion
7:00-8:00              Reception
Image credit
Miguel Libarnes, Mascara, 2012, still from video performance, 3 mins. 32 secs., courtesy of the artist.