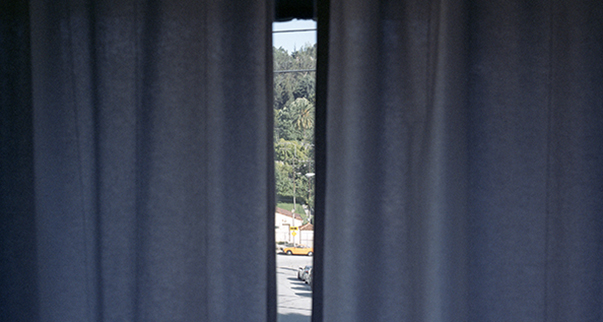 CMP Projects: Heather Rasmussen
Bruised Fruit
California Museum of Photography
January 24 - April 4, 2015
| | |
| --- | --- |
| Public Reception | Saturday, February 28, 2015, 6pm - 9pm |
| Artist Remarks (Culver Screening Room) | Saturday, February 28, 2015, 6:30pm - 7:30pm |
The California Museum of Photography presents work from Los Angeles-based artist Heather Rasmussen's ongoing photographic series Compile. Shot in medium format film, Rasmussen's pictures capture isolated moments of domestic and urban environments that ring with a sharp sense of color, texture, and a fragility that lends lightness to subject matter imbued with process: stacking, preparation, dilapidation, death, and overgrowth.

Heather Rasmussen (born in Santa Ana, California in 1982) is a Los Angeles-based artist. Her work was recently featured in a solo exhibition at Angels Gates Cultural Center, Los Angeles; in the group show Trouble with the Index at the CMP in 2014; and in group shows at the Art Institute of Chicago; Los Angeles Contemporary Exhibitions; Cohen Gallery, Los Angeles; Blutenweiss, Berlin; SOIL, Seattle; and Mixed Greens, New York, among elsewhere. Her work was published in the book Unfolded, Paper in Design, Art, Architecture and Industry (Birkhäuser Verlag, Basel, 2009) alongside artists such as Olafur Eliasson, Thomas Demand, and Frank Gehry. Rasmussen's photographs are held in the collections of The Art Institute of Chicago and The Los Angeles County Museum of Art. She earned her BA at the University of California, Irvine, and her MFA at the California Institute of the Arts.

CMP Projects is an ongoing series of solo presentations curated by Joanna Szupinska-Myers, CMP Curator of Exhibitions at the California Museum of Photography, part of UCR ARTSblock. The series is partially supported with funds provided by UCR's College of Humanities, Arts, and Social Sciences (CHASS) and the City of Riverside. The production of new work for Heather Rasmussen: Bruised Fruit was made possible in part by an Emergency Grant from the Foundation for Contemporary Arts, New York.

Heather Rasmussen: Bruised Fruit was extended through April 11.



image: Heather Rasmussen, Orange car on W. Silver Lake Drive, Silverlake, 2012 (detail). Courtesy of the artist.