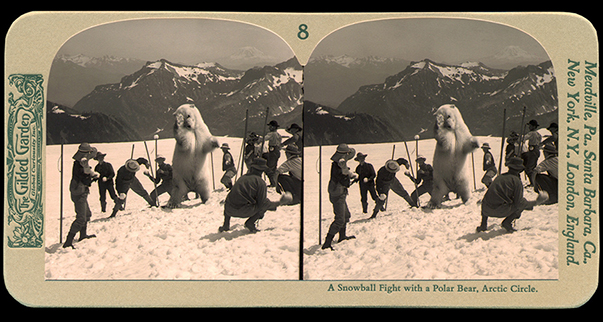 Recollection
Contemporary Artists Working With The Keystone Mast Collection
California Museum of Photography
October 17, 2015 - March 5, 2016
The California Museum of Photography is home to the Keystone-Mast Collection, the world's largest archive of stereoscopic photographs and negatives.  Because of its broad appeal, Keystone-Mast is the most frequently accessed collection at the museum, used by researchers worldwide.  The collection is also open to artists, who have utilized these photographs to make new images.  The works in Recollection have been produced by five artists who manipulated, edited, or composited the historic photographs to make new, contemporary images in their own voices.
Recollection features work by Jim Pomeroy, Esther Parada, Mark Klett and Byron Wolfe, and Ethan Turpin.  All work exhibited in Recollection is part of the museum's permanent collection.
Image: "A Snowball Fight with a Polar Bear, Arctic Circle" by Ethan Turpin. Museum purchase. Courtesy/(c) Ethan Turpin.