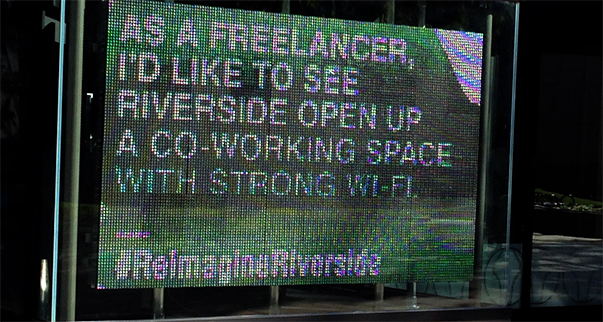 #Reimagine Riverside
Culver Center of the Arts
March 15 - April 28, 2014
| | |
| --- | --- |
| Reception | Saturday, April 12, 2014, 6pm - 9pm |
#ReimagineRiverside is an interactive public media project by Matt Manos/verynice design. In the last couple of years, as the economy returns from the Great Recession, long empty storefronts are starting to come to life with new businesses. These new establishments are an exciting sign of change, but are often something you didn't directly ask for, and may or may not be something that you need or even want.
Human-centered design, a strategy increasingly used by designers to disrupt the status quo of unneeded and unoriginal products and services, is rarely manifested in location scouting for small business at large. What would it look like if new businesses were launched directly in responses to what people said they needed and wanted? This is what #ReimagineRiverside is trying to imagine.
If you have an idea for a business or social enterprise that would improve Riverside, tweet your idea with the hashtag #ReimagineRiverside, and your idea may be displayed here on the Culver Center Digital Mural. The mural will be updated weekly through April 26, with a public reception on April 12 6-9pm.
ABOUT THE ARTIST
Matthew Manos is an artist and designer whose current personal work investigates the role of design in facilitating conversations around experimental social/economical structures in both micro and macro settings. He is the founder, and is a managing partner at verynice, a global design and innovation consultancy based in Los Angeles and New York that gives half of its work away for free to non-profit organizations. Internationally recognized as the global leader in small business volunteerism, verynice's model has inspired hundreds of practitioners from around the globe to give their work away for free. He holds a BA from UCLA's Design Media Arts program as well as an MFA in Media Design from Art Center College of Design. http://verynice.co
ABOUT THE DIGITAL MURAL PROJECT
The Digital Mural Project at UCR ARTSblock's Culver Center of the Arts presents a series of changing projects on the two screens inside the façade's glass kiosks that face the pedestrian mall. These projects are an opportunity to extend ARTSblock programming into the public space.
The Culver Center Digital Mural Project Series is curated by adjunct media curator Jeff Cain. He is full time faculty at the USC Roski School of Art and Design, and director of the Shed Research Institute.
UCR's College of Humanities, Arts and Social Sciences (CHASS) and the City of Riverside have provided support.