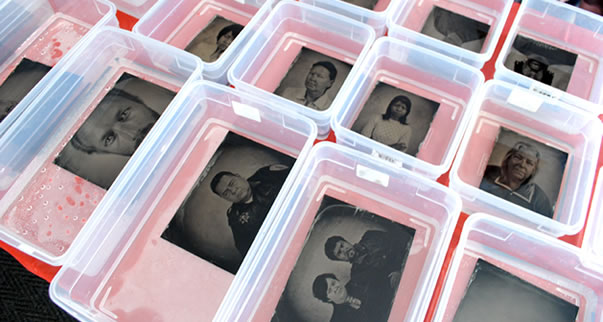 Riverside -Americans
Keliy Anderson-Staley
California Museum of Photography
January 21 - February 27, 2010
| | |
| --- | --- |
| Opening Reception | Thursday, February 4, 2010, 6pm - 9pm |
| Opening Reception | Thursday, February 4, 2010, 6pm - 9pm |
In the photo series Americans, Keliy Anderson-Staley uses the convention of portraiture to raise questions about representation, individuality and the many ways photography has shaped notions of identity from the 19th century to today's digital age. Anderson-Staley uses the wet plate collodion process to capture her sitters both individually and in couples. By utilizing the same antique process made popular in the 1850s and 1860s, when many believed that photography could scientifically record and catalogue a person's racial or ethnic identity, Anderson-Staley probes technology's claim to absolute objectivity.

For Riverside - Americans, Keliy invited members of the local community as well as UCR ARTSblock curators and staff to sit for tintype portraits. The workshops took place over the course of two long afternoons in October 2009. Participants were immersed in a classic 19th century portrait studio experience. They watched attentively as the photographer set the camera, developed images in a makeshift cardboard darkroom, and as their own tintype portraits slowly came to life in the watery bath. There will be an opening reception for the exhibition from 6:00 - 9:00 at UCR/CMP on Thursday, February 4th as part of First Thursday ARTSwalk.

Like the photographers of the 1850s, Keliy Anderson-Staley uses hand-poured chemistry, wooden view cameras, and brass lenses to expose positive images directly onto blackened metal and glass. The finished plates are one-of-kind three-dimensional objects. In order to create a portrait using this method a person must sit still in front of the camera for almost a minute, as the features of the face itself and not just passing emotions are recorded.

Keliy Anderson-Staley received a BA from Hampshire College, in Amherst, MA, and an MFA from Hunter College, in NYC. She has taught the tintype process at The Center for Alternative Photography in NYC, at Hampshire College and at Bowdoin College, Brunswick, ME. She was a 2008 New York Foundation for the Arts Photography Fellow and in the A.I.M. 28 program at the Bronx Museum of the Arts. Her tintypes were published in New York Magazine, and her work is currently on exhibit in Massachusetts, Maine, Colorado, New York, North Carolina, and Texas. Images from Off the Grid have been published in Camerawork Magazine, and were featured as Daylight Magazine\'s August 2009 podcast. She recently was selected as one of five runners-up for the prestigious Aperture Portfolio Prize 2010.
Digital Studio Gallery UCR/CMP