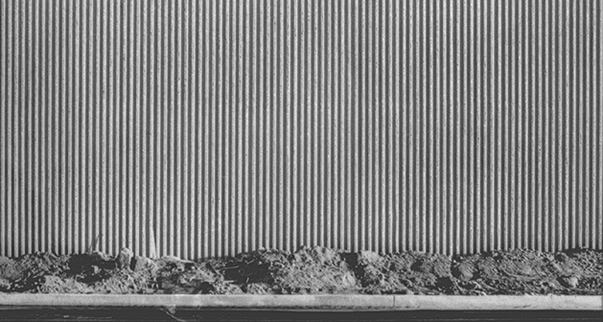 Seismic Shift
Lewis Baltz, Joe Deal and California Landscape Photography, 1944-1984
California Museum of Photography
October 1 - December 31, 2011
| | |
| --- | --- |
| Opening Reception | Saturday, October 1, 2011, 6pm - 9pm |
In the 1970s and early 1980s, Joe Deal and Lewis Baltz crossed paths at the University of California, Riverside (UCR), and the UCR/ California Museum of Photography. This was the period when the exhibition New Topographics: Photographs of a Man-Altered Landscape, which included both photographers, announced the arrival of a radical new aesthetic in landscape. Though the show originated in Rochester, NY, its origins lay significantly in Southern California, and its effect was to shift the epicenter of landscape photography from Northern California to the SoCal region.

Seismic Shift will illuminate the far-reaching consequences of this revolution in landscape photography by tracing its regional history. Beginning with Ansel Adams and Edward Weston - and with the 1946 arrival in San Francisco of Minor White, who would extend the Weston-Adams tradition by transforming it - the exhibition will follow the history in the 1950s and 1960s through the careers of Wynn Bullock, Brett Weston and many others. Then it will examine how the 1970s work of Baltz, Deal, Robert Adams and Henry Wessel - the Western contingent of the New Topographics - created a shock of recognition, an awakening to mutual ideas different from those of their predecessors, that a younger generation of photographers shared. Portfolios of the period, one done by a class Baltz taught at UCR, will demonstrate the immediacy that these ideas had.

Thus will Seismic Shift explore, in the spirit of The Getty initiative Pacific Standard Time, a local source of innovations in the arts that had international consequences.

Pacific Standard Time is an unprecedented collaboration of more than sixty cultural institutions across Southern California, coming together to tell the story of the birth of the L.A. art scene. Initiated through grants from the Getty Foundation, Pacific Standard Time will take place for six months beginning October 2011.

Join us for a Panel Discussion November 5 at 2:00 PM.
Pacific Standard Time is an initiative of the Getty. The presenting sponsor is Bank of America.