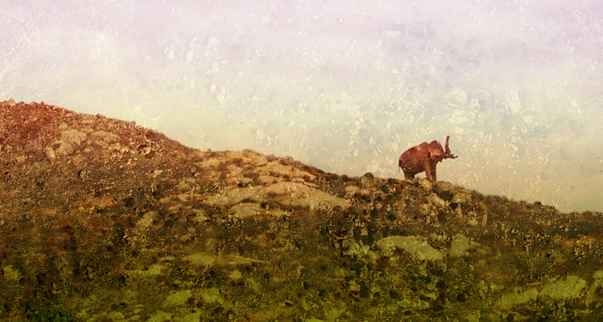 Terry Chatkupt: Jurupa
Culver Center Digital Mural Projects 2015-2016
Culver Center of the Arts
June 27 - July 29, 2015
Admission to the opening reception and the performance is free to the public
| | |
| --- | --- |
| Reception | Saturday, June 27, 2015, 6pm - 9pm |
| Performance/Live Score | Saturday, June 27, 2015, 7pm - 8pm |
Jurupa is a video installation/music project specifically produced for the Culver Center Digital Mural Project series. It features an abstract montage of colors, textures, natural and structural elements that are inspired by the landscape in and around the Jurupa Hills of Riverside County. In addition, the artist has composed experimental music to accompany the visual imagery of this project. Chatkupt will be performing a live score in adjunct to the video on June 27 at 7 PM. The event is free and open to the public.

Terry Chatkupt received his MFA from the California Institute of the Arts in 2004 and attended the Skowhegan artist residency program in 2003. His videos, installations, and photography have been exhibited at LAXART (Los Angeles), Jerome Zodo Contemporary (Milan, Italy), REDCAT (Los Angeles), and Harris Lieberman (New York). Screenings of Chatkupt's film/video work have been included in programs at numerous venues including MoMA (New York), Centre for Contemporary Art Luigi Pecci (Prato, Italy), Seattle Art Museum, Art Basel Miami Beach Video Lounge 2007, and Los Angeles Contemporary Exhibitions. Chatkupt's film/video work have also been featured in several film festivals including the 2011 ASU Art Museum Short Film and Video Festival (Tempe, AZ), the 2008 Narrative Film + Video Festival (CalState, Chico), and the PDX Film Fest 2008 (Portland, OR). He lives and works in Pasadena, CA. 
The Culver Center Digital Mural Project 2015-2016 series is curated by Jennifer Frias, Associate Curator, Sweeney Art Gallery at UCR ARTSblock.

 The Culver Center Digital Mural Project at UCR ARTSblock's Culver Center of the Arts presents a series of changing projects on the two screens inside the façade's glass kiosks that face the pedestrian mall. These projects are an opportunity to extend ARTSblock programming into the public space.

 UCR's College of Humanities, Arts and Social Sciences (CHASS) and the City of Riverside have provided support.


(Image) Terry Chatkupt, "Jurupa" (video still), 2015