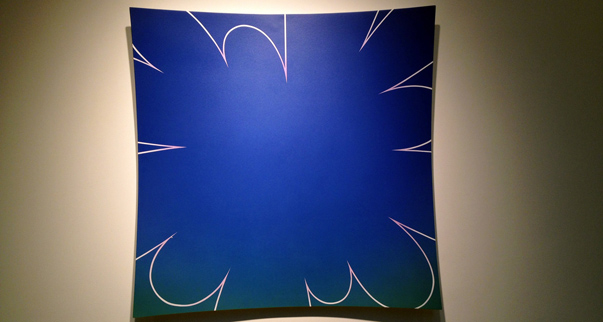 Transcendent Abstraction in Painting
Selections from the Permanent Collection of UCR Sweeney Art Gallery
Culver Center of the Arts
April 11 - May 2, 2015
Admission to the opening reception is free to the public
| | |
| --- | --- |
| Reception | Saturday, April 11, 2015, 6pm - 9pm |
Kevin Appel
Mark Dutcher
Jason Eoff
Peter Lodato
Carter Potter
Yek


Transcendent Abstraction in Painting brings attention to Sweeney Art Gallery's growing permanent collection, alongside the deep photographic collection at UCR California Museum of Photography. The art gallery was established on UCR's main campus in 1963. It moved to downtown Riverside in 2006 to help form the UCR ARTSblock with CMP and Culver Center of the Arts. Selected works in the exhibition focus on painting and come from gifts by collectors given since 2007 and onward. All of the artists have had a presence in the Southern California art scene since the early 1990s.

The paintings in the exhibition tend to emphasize one of two methods. Some artists employ gestural brushstrokes, whether Lodato's overlay of thin layers of paint, Dutcher's use of a brush loaded with paint, creating an impasto effect, or Appel's application of delicate watercolor, accentuating the hand of the artist in the making of the work. Other artists focus on creating a highly finished work, such as Potter's use of found film strips, Yek's airbrush technique, or Eoff's resin coating, all of which suggest the absence of the artist's hand in the creation of their own work. The tie that binds the artists to one another is a fascination with examining what defines a painting and also the power of abstract painting to create a transcendent, visual experience.

Transcendent Abstraction in Painting: Selections from the Permanent Collection of UCR Sweeney Art Gallery is organized by Sweeney Art Gallery at UCR ARTSblock and curated by Tyler Stallings, Artistic Director, Culver Center of the Arts & Director, Sweeney Art Gallery, University of California, Riverside. UCR's College of Humanities, Arts, and Social Sciences and the City of Riverside have provided support. Works in the exhibition represent gifts from Laura & John Gamble, The Collection of Bernard & Peggy Lewak, Herbert & Lenore Schorr, and Susan Wunderlich.

(Image) Yek, "LOOP," 2001, mixed media, 54 x 54 x 5 inches, UCR Sweeney Art Gallery Permanent Collection, gift of Laura & John Gamble