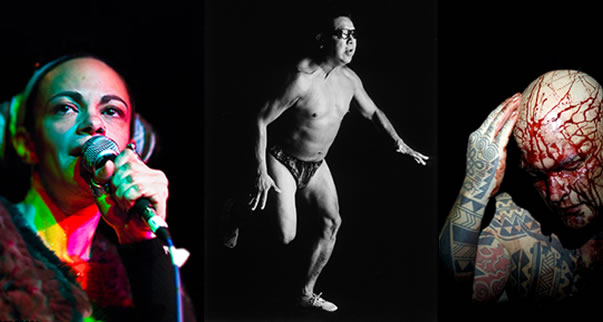 You Belong To Me
Art and the Ethics of Presence
Sweeney Art Gallery
February 13 - February 21, 2009
Featuring performances by Ron Athey, James Luna, and Ursula Rucker

Join us for a series of February events celebrating artists who make their audiences into more than spectators. Joined by the shared experience of performances that are alternately tender and intimate, intense and cathartic, we do more than watch them perform. In "being there" we become a body of witnesses, a collective, a community. At issue in these artists\' performances is not just their presence to us, in other words, but our presence to them, and to each other.

These events include a musical concert featuring internationally renown Luiseño performance artist James Luna and feminist spoken word artist and hip hop musician Ursula Rucker; a week-long workshop and evening of queer performance featuring the I.E.\'s very own art star, Ron Athey; and an afternoon of conversations between each of the artists, UCR faculty, and audience members.