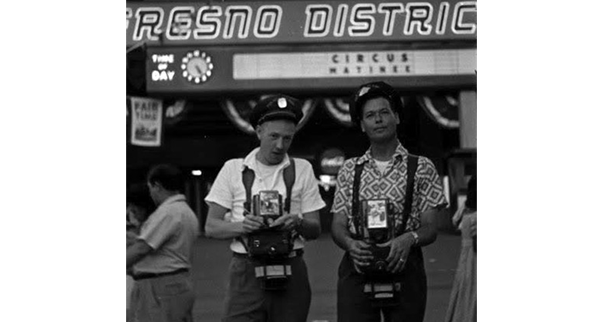 Fox Movie Flash
The Street Vendor Camera in San Francisco, 1950-1963
California Museum of Photography
March 26 - November 27, 2022
This is the first exhibition ever devoted to Street Vendor Portraits, a form of photography practiced worldwide from the 1930s through the 1970s, long before we carried digital cameras.  Street vendor photographers snapped first, then surprised customers with the offer of a portrait as soon as the film got developed and printed. Many said yes! Today these full-length pictures of ordinary people—photographed on the street just like movie stars caught by paparazzi—survive in flea markets and family albums.  In San Francisco, Joe Selle called his business "Fox Movie Flash" and his vendors worked Union Square, Market Street, Cliff House and the Sacramento State Fair.  Selle developed all the film, but only printed pictures that sold. 

When a new BART station replaced the Fox Movie Flash building at 642 Market Street, the Visual Studies Workshop in Rochester NY agreed to house 1000 35 mm film cans, each holding 100 feet of film, roughly one million anonymous portraits by dozens of unknown photographers. Now it is the largest known Street Vendor photography archive.    
In the early 2000s, Andrew Eskind used then-new technology to look at 100,000 Fox Movie Flash negatives for the first time since they were made.  Along with striking images, the digitized strips of film revealed what Fox Movie Flash photographers found on the San Francisco streets: an unpredictable parade of families, couples, tourists and conventioneers, sailors and soldiers, gay and straight, every color and class.  Photographers approached each subject with energy and humor; performance was part of the pitch. Through their eyes, we see a world where everyone has value, and everyone is safe. 
Curators: 
Andrew Eskind, Curator and Archivist, Rochester, NY
Mary Panzer, Curator and Historian, New York City, NY
Renny Pritikin, Curator and Art Writer, Oakland, CA