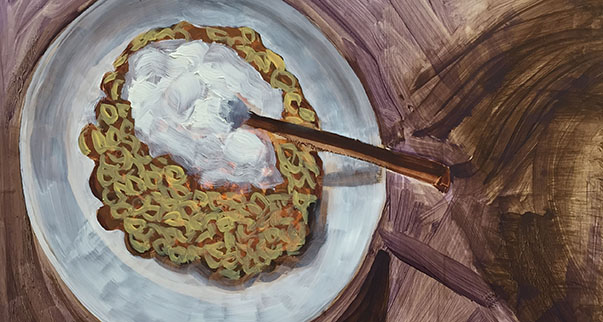 Joshua Holzmann: PHAT American Eatz
Culver Center of the Arts
August 8 - October 10, 2015
Admission to the opening reception is free to the public
| | |
| --- | --- |
| Reception in conjunction with Riverside's First Thursday ArtsWalk | Thursday, October 1, 2015, 6pm - 9pm |
PHAT American Eatz is a solo exhibition of recent paintings and multimedia work by Joshua Holzmann. The show culminates various themes around food and food consumption. The artist obsessively documents all the food he eats. These lists of servings and categories of food are used to create text paintings that can also be experienced as color field works. The multi-panel paintings and drawings in the exhibit exist as a record of the time it has taken him to prep, cook, and eat a meal; or order from a menu, wait for it to arrive, and eat at a restaurant.  The total amount of time in each of those experiences is the allotted time he uses to make a painting or drawing of the completed dish. Also included in the show is a series of works on paper entitled A Sweet for You But Not for Me. These watercolors, pastels, and other assorted materials are works that the artist employs at times to curb his cravings for sweets. For example, instead of giving into his craving of having a dozen donuts, he will instead draw them. The exhibition is the internal battle of a passion and addiction with food forted by the self-awareness of an American eater.

Joshua Holzmann was born in Milwaukee, Wisconsin, and he has been living and working as an artist in Southern California for eleven years. Currently he is a third-year MFA candidate in studio art at the University of California, Riverside. He received his BFA from Art Center College of Design in Pasadena, where he was awarded the Knapp Foundation Arts Scholarship. For the past three years, Holzmann has received fellowships from the Gluck Fellows Program of the Arts and  has been exhibited in various national and international group shows. 

Joshua Holzmann: PHAT American Eatz is organized by UCR ARTSblock and is curated by Tyler Stallings, Artistic Director of the Culver Center of the Arts and Director, Sweeney Art Gallery. UCR's College of Humanities, Arts, and Social Sciences (CHASS) and the City of Riverside have provided support for ARTSblock's programs.

Image: Joshua Holzmann, "Twenty-Three Minutes," 2015, Oil on canvas, 14 x 18 inches, courtesy of the artist