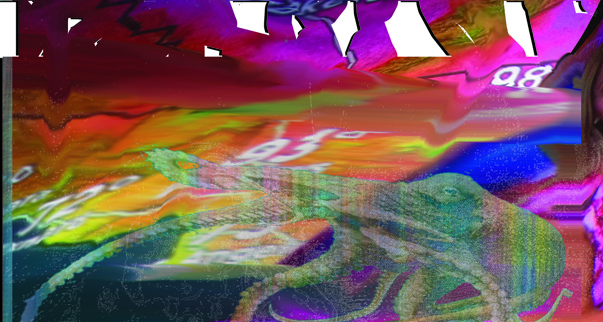 Mark Batongmalaque: Set Themselves Above the Others
Culver Center Digital Mural Projects 2015-2016
Culver Center of the Arts
February 13 - March 7, 2016
Free Admission to the opening reception. This work will be presented in conjunction with the exhibition "Second Wave: Aesthetics of the 80s in Today's Contemporary Art" on view at the Culver Center of the Arts and the Sweeney Art Gallery.
| | |
| --- | --- |
| Reception in conjunction with Riverside's First Thursday ArtsWalk | Thursday, March 3, 2016, 6pm - 9pm |
Mark Batongmalaque's video captures amalgamation of low-tech effects, stolen moments of scrambled images from sources such as the Spice Channel, VCR tracking, and other television visual noises. While the concept of appropriation has been utilized throughout art history, it returned to its prominence in the 1980s with artists such as Richard Prince, who like Batongmalaque, takes anonymous and ubiquitous pictures from the media and re-elevates our gaze on the images.

Mark Batongmalaque received his MFA at UC Santa Barbara. He has exhibited his work at multiple venues throughout California such as Raid Projects (Los Angeles, CA). Los Angeles Municipal Art Gallery (Los Angeles, CA), Santa Barbara Museum of Art (Santa Barbara, CA), and Sam and Alfreda Maloof Foundation for Arts and Crafts (Alta Loma, CA). He lives and works in Los Angeles.

The Culver Center Digital Mural Project 2015-2016 series is curated by Jennifer Frias, Associate Curator, Sweeney Art Gallery at UCR ARTSblock. The Culver Center Digital Mural Project at UCR ARTSblock's Culver Center of the Arts presents a series of changing projects on the two screens inside the façade's glass kiosks that face the pedestrian mall. These projects are an opportunity to extend ARTSblock programming into the public space. UCR's College of Humanities, Arts and Social Sciences (CHASS) and the City of Riverside have provided support.


Image: Mark Batongmalaque, "Set Themselves Above the Others" (video still), 2015