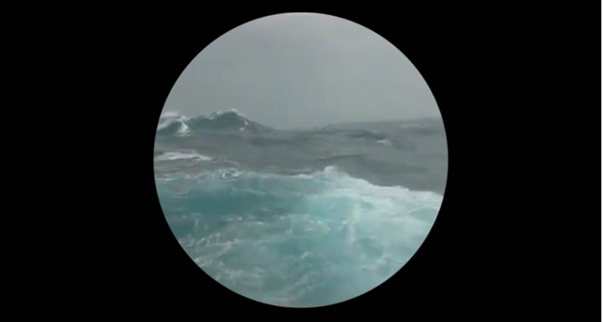 McLean Fahnestock: Lovesick, Luv(sic)
Culver Center Digital Mural Projects 2015-2016
Culver Center of the Arts
May 15 - June 22, 2015
Admission to the opening reception is free to the public
| | |
| --- | --- |
| Reception | Saturday, May 16, 2015, 6pm - 9pm |
McLean Fahnestock's Lovesick, Luv(sic) is part of an ongoing series of works that examine the lure of the Pacific Ocean to an adventurer. This iteration created for the Culver Center Digital Mural Project includes an opposition, a second channel that provides an alternative perspective of the same voyage. Both have their blind spots but one video is in the moment, experiencing the things as they are, exciting and unsettling. The other is a falsity presenting an appealing, improbable stability.

McLean Fahnestock is a media artist who works in video, sound, sculptural installation, and photographic prints. She reclaims material from institutions, seeking out footage, images, and items that carry the weight and specificity of history and the trappings of exploration. Most recently working out of Long Beach, CA, she is currently a Visiting Assistant Professor at Austin Peay State University in Clarksville, TN. She received a BFA from Middle Tennessee State University and MFA from California State University Long Beach. Her work has been exhibited and screened across the United States and internationally at venues such as the California Science Museum, MOCA Hiroshima, and SPACE, Technisches Museum Wien, Vienna, Austria. She was a recipient of Puffin Foundation Grant (2013), the Center for Creative Innovation (CCI) Artists' Resource for Completion (2010), the Durfee Foundation Grant (2010), Professional Artist Fellowship from the Arts Council for Long Beach (2009) and the Hoff Foundation Artist Grant (2008). Her work was included in a DVD compilation of short videos by the LA Film Forum. She was a finalist for a 2012 Vimeo Video Award and was recently named "Most Promising New Artist" at MADATAC 05, in Madrid, Spain.

The Culver Center Digital Mural Project 2015-2016 series is curated by Jennifer Frias, Associate Curator, Sweeney Art Gallery at UCR ARTSblock. The Culver Center Digital Mural Project at UCR ARTSblock's Culver Center of the Arts presents a series of changing projects on the two screens inside the façade's glass kiosks that face the pedestrian mall. These projects are an opportunity to extend ARTSblock programming into the public space. UCR's College of Humanities, Arts and Social Sciences (CHASS) and the City of Riverside have provided support.

(Image) McLean Fahnestock, "Lovesick, Luv(sic)" (video still), 2015