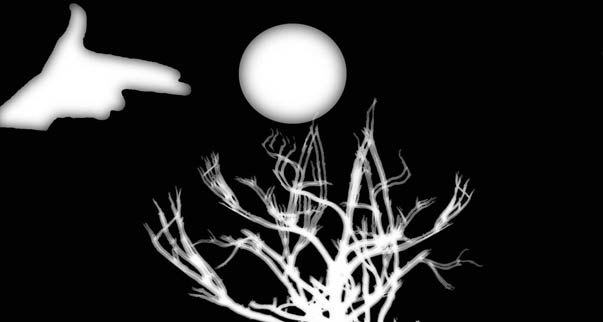 Melanie Nakaue: Eclipses
Culver Center of the Arts
June 27 - October 17, 2015
Admission to the opening reception is free to the public
| | |
| --- | --- |
| Reception | Saturday, June 27, 2015, 6pm - 9pm |
Melanie Nakaue's Eclipses is a multi-channel video installation comprised of a series of experimental animations. Through an amalgamation of collages,digital graphics, and stop motion animation, Nakaue depicts a disjunction between psychological and physical entities associated with "eclipses." For this presentation at the Culver Center of the Arts, the idea of an "eclipse" is manifested through explorations of physical dimensions associated with layering and shadows. Nakaue unites these elements to illustrate the liminal space of passing between two states of being, consciousness and the unconscious.

Nakaue surveys the delineation between two classifications of eclipses through her own experience and observations. Utilizing the stretch of walls in the Culver Center's atrium gallery, she divides her installation in two- a suite of five videos on flat screen monitors and a two-channel projection. The five individual videos contain looped tableaus of surreal imagery relating to the state of visual and
physical ambiguity. Endings/Beginnings and Visions employ the use of paper collaging and stop motion animation to create a hypnotic composition of visual static. Using gradient color changes, Horizons captures the state of obstructed vision through a spectrum of saturated hues. It also exists in the grouping of monitors as a visual break from the other tableaus that display a layering of objects.

To further exemplify the disjunction between perception and reality, Nakaue alludes to the early 20th century art movement of Dada. Hovering between haunting and playful moments, Portrait of Dreams reveals abstract representations of objects referencing the medium of the "rayograph," made popular by artist Man Ray.

The spirit of Dada continues in Nakaue's Selves, which was inspired by the technique of photomontage made famous by artist Hannah Hoch. In the early 20th century, Hoch used abstract compositions by splicing together images from fashion magazines and popular publications. Selves utilizes the literal re-figuring of photomontage whereby the artist reassembled her own self- portrait from current periodicals utilizing photo imaging software. The resulting piece reflects the artist's self-portrait in three different iterations and animated into a nonsensical space where flatness and depth coexist.

In the opposing wall, two projections form a tangible connection between lunar and psychological demarcations of an eclipse. Autoscopy, featuring sculpted heads that resemble textured, ghostly planets, are interrupted by paper "static" emulating the loss of consciousness. On the other projection, Eclipse presents a lunar movement, simulating the moon's waxing and waning cycle, which is similar to the slow gradient that appears in Horizons. Both Autoscopy and Eclipse exist side-by-side but never uniting to overshadow one another. It is however suggested in their accompanying audio tracks of chimes and droning, that each state has crossed a threshold that ventured into an intersection between disorientation and clarity.

In conjunction with the exhibition, Nakaue's earlier work, Regenerate (2013) will be featured as part of the Culver Center Digital Mural Project series from September 3 - October 3, 2015. The Culver Center Digital Mural Project at UCR ARTSblock presents a series of changing projects on the two screens inside the façade's glass kiosks that face the pedestrian mall. These projects are an opportunity to extend ARTSblock programming into the public space.


Melanie Nakaue received her MFA from California Institute of the Arts. Selected screenings and exhibitions of her work include: Nichols Gallery at Pitzer College, the Luckman Gallery at California State University, Los Angeles, LAND, AM NUNDEN DA (London), 533 (Los Angeles, CA), Portland Documentary and eXperimental Film Festival (Portland, OR), and Monte Vista Projects (Los Angeles, CA). She lives and works in Pasadena, CA.


Melanie Nakaue: Eclipses is organized by UCR ARTSblock and curated by Jennifer Frias, Associate Curator, Sweeney Art Gallery, University of California, Riverside. Support provided by UCR's College of Humanities, Arts, and Social Sciences (CHASS), and the City of Riverside.

(Image) Video still of "Portrait of Dreams," 2015