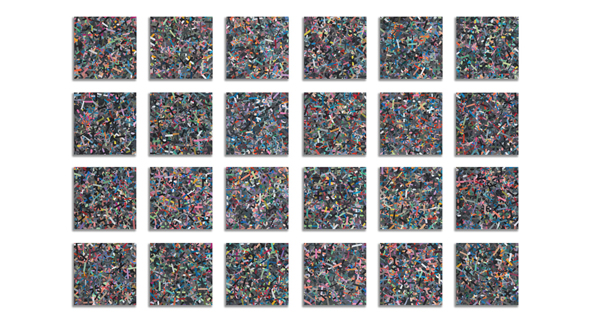 Gary Lang
Rising
Culver Center of the Arts
January 19 - April 14, 2019
| | |
| --- | --- |
| Winter Opening Reception | Saturday, January 19, 2019, 6pm - 9pm |
Gary Lang's installation

Rising

is comprised of twenty-four square panels, each a painted field clambering with wheel-like elements. Form is predetermined, freeing Lang from what he calls "the grid of reason," and allowing him to attend to the process of painting itself. For Lang, this activity is a contemplative, disciplined, and sensual path. His stance is one of receptivity, enabling events to surface in the work.
Lang lays down the paint by hand in straight forward brushstrokes - without apertures or riggings. The painted marks develop incrementally, and the artist's chromatic revelations emerge in the course of the painting. While many consider him a master colorist, Lang remarks, "I don't think about color. Color is felt. Color is chance. Color is something to explore, rather than something to know." We might wonder at his openness to color's potential - a spectrum LA Times art critic Leah Ollman calls "all-inclusive: luminous, flat, sweet, sharp, Day-Glow, metallic, shrill, and sexy."
Lang received an MFA from Yale University in 1975, and a Fullbright/Hayes Travel and Research Grant which brought him to Barcelona for two years prior to settling in New York City. Lang has had more than seventy solo exhibitions in the United States, Austria, France, Japan, The Netherlands, and Spain. He now lives and works in Southern California.

Gary Lang,

Rising

, 2015, acrylic on panel.