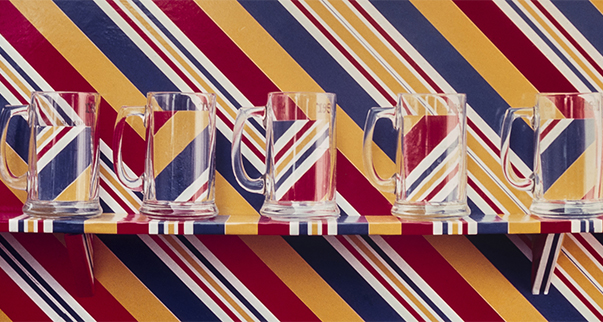 Robert Cumming
The Secret Life of Objects
California Museum of Photography
September 26, 2019 - February 2, 2020
| | |
| --- | --- |
| Fall Opening Reception | Saturday, October 5, 2019, 6pm - 8pm |
Perception, language, and the nuances of photographic vision are common themes in the work of Robert Cumming (b. 1943 Worcester, MA). His method of portraying the physically impossible so that it appears visually accurate has its roots in his early career as a painter, sculptor, performance artist, and mail artist. This exhibition traces the trajectory of Cumming's work through several decades and focuses on his singular appreciation for the power of objects in art. With a focus on his work from the 1970s, the exhibition features Cumming's photographs of ingenious fictions using mundane materials, as well as other non-photographic works: sculpture, mail art, printmaking, and objects from the artist's ongoing exploration of nautical architecture.
Robert Cumming: The Secret Life of Objects is the first major museum survey in nearly 20 years dedicated to the artist's exceptional photographic projects.
This exhibition is organized by the George Eastman Museum, and is curated by Sarah Bay Gachot (MA 2012, UCR).
Image: Robert Cumming (American, b. 1943). Reverse Refraction, 1974. Inkjet print. Courtesy of the artist. © Robert Cumming

Thank you to our sponsors: UCR College of Humanities, Arts, and Social Sciences, and the City of Riverside.