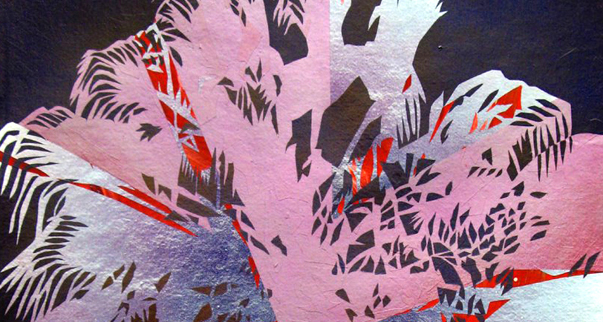 SECOND WAVE
Aesthetics of the 80s in Today's Contemporary Art
UCR ARTS
November 14, 2015 - March 19, 2016
The exhibition will be presented in the Culver Center of the Arts and Sweeney Art Gallery. Admission to the opening reception is free to the public
| | |
| --- | --- |
| Reception | Saturday, November 14, 2015, 6pm - 9pm |
| Performance Series - "Transceiver: D Hill + Takeshi Kanemura" | Saturday, January 30, 2016, 5pm - 6pm |
| ARTSblock Talks - "Far From Nostalgia: Impact of 80s Media on Today's Art" | Saturday, November 14, 2015, 5pm - 6pm |
| Performance Series: "Dancing is a little too romantic for me: Kim Zumpfe + Satoe Fukushima" | Saturday, January 30, 2016, 6:00pm - 7:30pm |
| Screening and Q&A - "Is It Really So Strange?" | Saturday, March 5, 2016, 7pm |
Mark Batongmalaque     Brian Bress    Jordan Christian    Gregory Eberhardt    Chet Glaze  

Valerie Green   D Hill    Pearl C. Hsiung     Lisa Lapinski    Ryan Perez    Conrad Ruiz  

Shizu Saldamando    Emilio Santoyo    Kristofferson San Pablo    Devon Tsuno
SECOND WAVE: Aesthetics of the 80s in Today's Contemporary Art explores the influences of the artistic styles and subject matter from the artists in the 1980s on a new generation of artists, who were born or raised in the 80s, and have expressed the importance of this decade from nearly thirty years ago on their own work.

The art world of the 1980s was a decade that saw the resurgence of painting, exploration of authenticity, the employment of appropriation, an embrace and critique of consumerism, along with the rise of graffiti art, gay activism, and multiculturalism. While not an exhaustive list, some of the more familiar artists associated with this time include Jean-Michel Basquiat, Ross Bleckner, Eric Fischl, Jack Goldstein, Gran Fury, Guerilla Girls, Peter Halley, Keith Haring, Jeff Koons, Barbara Kruger, Sherrie Levine, Robert Longo, David Salle, Julian Schnabel, Cindy Sherman, and Mark Tansey.

From a grand narrative perspective, much of the spirit behind their work could be viewed as a reaction to the prior decade of the 1970s that saw a rise of "anti-aesthetic" work with conceptual art, process art, earth art, and performance. The rising profile of the artist's voice that occurred in the 1980s might be best symbolized by the "culture wars" that happened at the end of the decade when senator Jesse Helms attacked the National Endowment for the Arts for supporting work that made visible what had been repressed socially: sexuality, desire, power, and more. In other words, the artist's voice was having such an impact that it attracted the attention of a senator, although negatively, and was underscored by the political atmosphere emboldened by Reaganomic deregulation.

Several exhibitions in the past ten years that have revisited the 1980s include American Art of the 1980s: Selections From the Broad Collections at the Gallery of Art at Washington University in St. Louis (2003); Circa 1986 at the Hudson Valley Center for Contemporary Art, Peekskill, NY (2011); The Museum of Contemporary Art Chicago's This Will Have Been: Art, Love & Politics in the 1980s (2013); and most recently, Take It or Leave It: Institution, Image, Ideology at the Hammer Museum, UCLA (2014), which surveyed the use of appropriation and institutional critique in art from the 1980s. Additionally, there have been retrospective exhibitions of artists from the 80s, such as Jack Goldstein X 10,000 at Orange County Museum of Art (2012), focusing on an artist who helped initiate an avant-garde art movement referred to as the "Pictures Generation." It is clear that there are mixed feelings about the decade contained within these titles. The resonance of the decade that they examine has only become more powerful over time, and is manifested in a new generation of artists who were born and raised in the 1980s, but have only begun their artistic careers in the past five years. This dialogue between the decades is reflected in the title of the exhibition.

While the exhibition will not include works by the artists from the 1980s, it will feature works by contemporary artists who have expressed how the 1980s has impacted their own work. The exhibition will be organized loosely around aesthetic trajectories that are identified with the 1980s, such as Appropriation, Feminism, Graffiti Art, Neo-Expressionism, Neo-Geo, Mass Media, and Multiculturalism. One note of distinction is that these artists have established their careers in Los Angeles and the southern California region. This is meant as a purposeful counterpoint to the careers of the artists in the 1980s that were established in the New York art world. Although, several studied in Los Angeles schools, such as California Institute of the Arts and UCLA, they then departed for the city where careers were being made at the time. However, it was in the 1990s and 2000s that Los Angeles' stature rose on an international level; a sentiment that underscores the selection of artists in SECOND WAVE.

SECOND WAVE: Aesthetics of the 80s in Today's Contemporary Art is organized by UCR ARTSblock and is curated by Jennifer Frias, Associate Curator, Sweeney Art Gallery. UCR's College of Humanities, Arts, and Social Sciences (CHASS) and the City of Riverside have provided support for the exhibition.


RELATED PROGRAMMING

The Culver Center Digital Mural Project
In conjunction to the exhibition, artists D Hill, Emilio Santoyo and Mark Bantongmalaque have created works specifically for the Culver Center Digital Mural Project series. The Culver Center Digital Mural Project at UCR ARTSblock presents a series of changing projects on the two screens inside the façade's glass kiosks that face the pedestrian mall. These projects are an opportunity to extend ARTSblock programming into the public space.

Schedule
D Hill, Trans, 2014-2015 – November 14 – December 28, 2015
Emilio Santoyo, Snack Attack, 2015 – December 31, 2015 – February 8, 2016
Mark Batongmalaque, Set Themselves Above the Others – February 13 – March 7, 2016
Performance Series: Performance Killed the Video Star
January 30, 2016
5-6 PM Transceiver, D Hill + Takeshi Kanemura
6-7:30 PM Dancing is a little too romantic for me, Kim Zumpfe + Satoe Fukushima

Is It Really So Strange?
Screening - March 4th, 2016 - 7pm
Screening and Q&A - March 5th, 2016 - 7pm
Making the connection between The Smiths' working-class, Manchester-raised, ethnic Irish experience and that of the sons and daughters of Latino immigrants in Los Angeles, Is It Really So Strange? is the first documentary that allows the fans themselves to speak at length about their lives, their loves and their brief encounters with their idol. A conversation between filmmaker William E. Jones and guest curator Alison Kozberg will follow the Saturday screening.
Image: Devon Tsuno "Palm," 2009. 30 x 23 inches, acrylic and spray paint on paper, courtesy of the artist