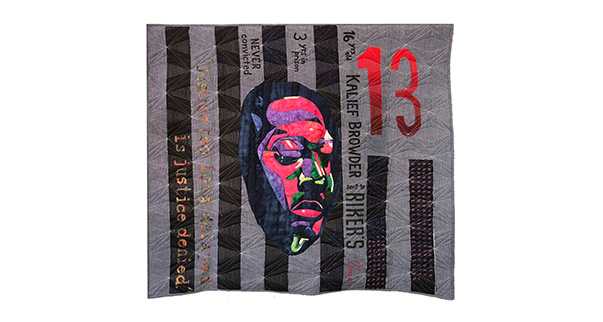 Social Justice Sewing Academy
Culver Center of the Arts
September 19, 2020 - February 14, 2021
Founded in 2017, the Social Justice Sewing Academy (SJSA) is a youth education program that bridges artistic expression with activism to advocate for social justice. Through a series of hands-on workshops in schools, prisons and community centers across the country, SJSA empowers youth to use textile art as a vehicle for personal transformation and community cohesion and become agents of social change. Many of SJSA's young artists make art that explores issues such as gender discrimination, mass incarceration, gun violence and gentrification. The powerful imagery they create in cloth tells their stories, and these quilt blocks are then sent to volunteers around the world to embellish and embroider before being sewn together into quilts to be displayed in museums, galleries and quilt shows across the country. This visual dialogue bridges differences in race, age and socioeconomics and sparks conversations and action in households across the country.
UCR ARTS presents a selection of quilts made by some of the talented individuals that have participated in SJSA's workshops. The issues they explore are more relevant than ever.
More info at 
sjsacademy.com
Thank you to our sponsors: UCR College of Humanities, Arts, and Social Sciences, and the City of Riverside.
Image: Kailah Foreman, Justice Denied, 2018. Courtesy of the artist/ SJSA.