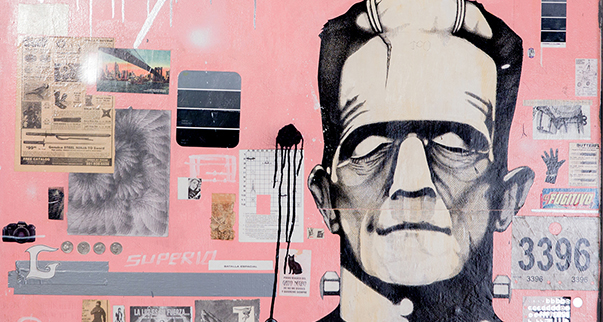 Some Kind of Hero
Culver Center of the Arts
June 24 - August 5, 2017
Some Kind of Hero: Selections from the Permanent Collection of UCR Sweeney Art Gallery features conflicting visual depictions of courage, valor, and fearlessness by artists SE Barnet, Nathan Bockelman, Jonathan Borofsky and The Date Farmers. 
SE Barnet's At 600': G.I. Joe is a large-scale portrait of a figureless, military uniform from a popular product line of action figures that explores ideas of defense, valor and memorialization.

Jonathan Borofsky's sculpture, I dreamed of red ruby (1996) is indicative of his use of the "gem" as a reoccurring emblem, symbolizing the heart of humanity and the desire to champion conflict that resonate in modern civilization.

Nathan Bockelman constructs a mythological narrative of a blue-collar, quasi-hero and his attempt to gain strength to exist in reality. In this work, he uses concrete as a symbol of slow transformation from grit to solid, acting as metaphor for individual efforts that manifest into either victory or failure.

Armando Lerma and Carlos Ramirez, also known as the artist collaboration, The Date Farmers, combine images rooted in their Mexican-American heritage and popular culture. I love you (2011) is a collaged painting, which revolves around Mary Shelley's anti-hero monster in the novel Frankenstein, who only wanted to connect with others but did not know how, resulting in actions that led to his demise.

The works in the exhibition exemplify the breadth of Sweeney Art Gallery's holdings and its significance as a developing resource for academic research and dialogue. The artworks housed in UCR Sweeney Art Gallery's permanent collection range from drawings, installations, paintings, photography, sculpture, and video by emerging and mid-career artists in contemporary art. The collection is comprised of acquisitions and gifts from artists, collectors and galleries. Gifts represented in the exhibition include those from the artists along with collectors Peter Norton, Ernest and Elaine Nagamatsu.

Some Kind of Hero: Selections from the Permanent Collection of UCR Sweeney Art Gallery is curated by Jennifer Frias, Associate Curator, Sweeney Art Gallery at UCR ARTSblock. UCR's College of Humanities, Arts and Social Sciences (CHASS) and the City of Riverside have provided support.