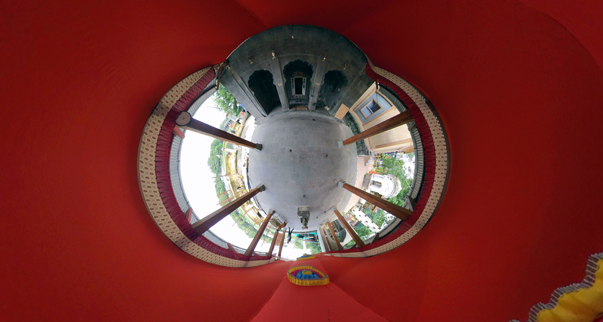 Sound Imaginations
Culver Center of the Arts
February 29 - March 8, 2020
| | |
| --- | --- |
| Winter Opening Reception | Saturday, February 29, 2020, 6pm - 9pm |
| Artist Talk | Thursday, March 5, 2020, 6pm |
Sound Imaginations (2020) 
Immersive surround sound and 360 video installation
Text by Paulo C. Chagas, Ph.D.
The immersive sound and video installation Sound Imaginations investigates listening cultures in different geographic and cultural contexts by exploring relationships between sound, image, space and culture. This immersive multimedia event built on the Black Box consists of a multi-channel surrounding sound projection – 8 speakers – and a multi-visual projection – 1 large screen and 8 monitors. Immersed in the audio-visual environment, the audience will experience the diversity of listening cultures from many different places. The installation presents recording of ambisonics sound and 360 video made in Riverside (CA), São Paulo (Brazil), Moscow (Russia), Pune (India) and Mannheim (Germany). The synchrony and asynchrony between image and sound create a myriad of relationships such as conformity, contesting, complementarity, oppositions, ambiguities, and so on. It develops n universe of real and virtual sound imaginations.
Sound Imaginations is designed as project combining scholarship on sound studies and artistic research on immersive sound and video. It was developed in my three years Senior Residence at the UCR Center for Ideas and Society. Focusing on the idea of listening cultures, the sound and video installation reflects on listening habits and techniques and cultural and historical aspects that are related to them. It explores different environments, technical devices, architectures, space and time structures that represent individual and social listening contexts. It aims to gain insight in questions such as: How different cultures have different approaches of listening? How different human beings listen in different ways? How we listen to surrounding machines, living beings, spaces and cultures?
From a conceptual and compositional point of view, the audiovisual installation articulates seven different categories of listening:
1. Listening cultures of relationships – the sonic phenomena that shape the layers of co-existence between human beings, animals, plants and machines.

2. Listening cultures of work – cultures of evaluation, collective work rhythms, auditory cultures of technology.

3. Listening cultures of entertainment – popular cultures of entertainment, rituals, sonic cultures of the body.

4. Listening cultures of protest – presence of political activity through noise, singing, talking, aural forms of protest.

5. Listening cultures of violence – sonic violence, impairment of the senses, connection to drugs and work cultures.

6. Listening cultures of no-sound – sounds that are not perceived by human beings, the unheard, the "unsound".

7. Future of listening – listening as an active process; the diversity of material and sensorial listening cultures; embodiment and disembodiment of listening.

Paulo Chagas is Professor of Music at UC Riverside's Department of Music. Born in Salvador, Brazil, prolific composer Paulo C. Chagas has created over 160 works in many different forms including stage, orchestra, chamber, choral, percussion, solo instruments, electroacoustic, and multimedia. His award-winning and ambitious productions have been applauded throughout the Americas, Europe, and Asia. After living and working for extended periods in Belgium and Germany, Chagas has resided in the U.S. since 2004.
Thank you to our sponsors: UCR College of Humanities, Arts, and Social Sciences, and the City of Riverside.