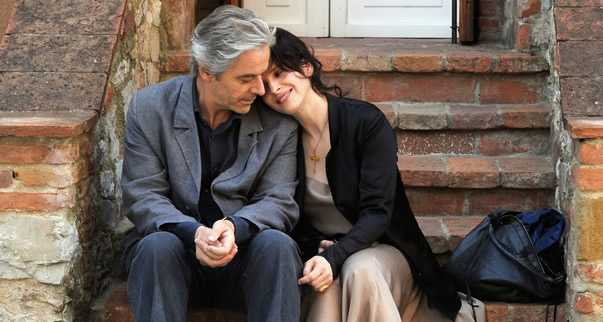 Certified Copy
Directed by: Abbas Kiarostami
France/Italy/Belgium | 106 minutes | Unrated
| | |
| --- | --- |
| Screening | Friday, March 16, 2012, 7pm - 9pm |
| Screening | Saturday, March 17, 2012, 7pm - 9pm |
Abbas Kiarostami's first film outside of Iran is the story of an art gallery owner, who after attended a lecture on authenticity and fakery in art, invites the speaker on a tour of her native Tuscan countryside. Initially mistaken for husband and wife, the pair decided to keep their act going throughout the day, playing the part of a long married couple.
"One of those films that's a joy to watch and even more of a joy to think about afterward. It's an amazing film that will stay with you for days, if not weeks." - Stephen Silver, The Trend
"The Iranian-writer director Abbas Kiarostami has always been enthralled by the shifting planes of fantasy and reality. His latest film, Certified Copy, is his fullest expression of that entrancement." - Peter Rainer, Christian Science Monitor
Best Actress, Cannes and Best Film, Valladolid Festival, 2010.