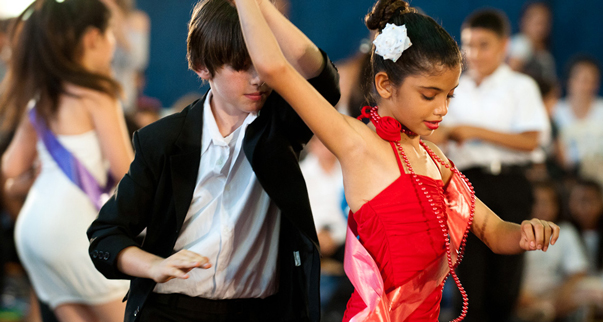 Dancing in Jaffa
Directed by:
2013 | USA/Israel
| | |
| --- | --- |
| Screening | Friday, June 27, 2014, 7pm |
| Matinee | Saturday, June 28, 2014, 3pm |
| Screening | Saturday, June 28, 2014, 7pm |
Dancing in Jaffa follows the journey of internationally renowned ballroom dancer Pierre Dulaine as he returns to his birthplace, Jaffa, Israel, expecting his old home but greeted by new racial animosity. A firm believer that dance can build bridges, Dulaine brings his Dancing Classrooms program to 5 ethnically diverse Jaffa schools. Jaffa has been a city divided with two communities living side-by- side but growing increasingly apart. The film explores the stories of four children forced to confront issues of identity, segregation and racism, as they dance with their enemies. Over the course of four months lives are transformed: dancing begins to change the future and bridge the gap between the Jewish and Palestinian people.

Premiered at Tribeca Film Festival, 2013