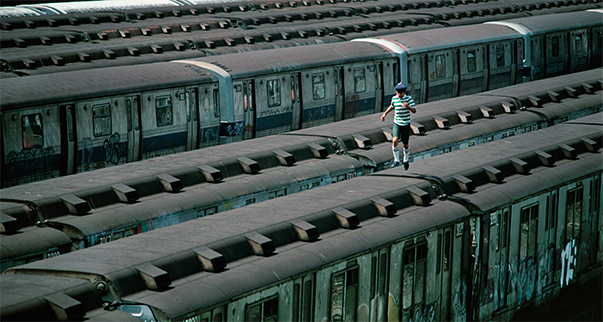 Everybody Street
Directed by: Cheryl Dunn
2013 | USA | 83 min | Unrated
| | |
| --- | --- |
| Screening | Friday, April 25, 2014, 7pm |
| Matinee | Saturday, April 26, 2014, 3pm |
| Screening | Saturday, April 26, 2014, 7pm |
Street photography began in Paris, but it reached its
apogee in New York, led by such giants as Helen Levitt,
Robert Frank, and Garry Winogrand, and, as this vibrant
survey attests, the tradition is still going strong. In a labor
of love, director Charyl Dunn spent three years following
thirteen leading practitioners of the art, including Boogie
(junkies), Martha Cooper (graffiti), Jill Freedman (cops),
Bruce Davidson (subways), Bruce Gilden (Coney Island),
Ricky Powell (art scenesters), and Jamel Shabazz (hip-hop
culture). Dunn dives right in, providing street photography
of her street photographers, as well as evocative interludes
that testify to the enduring vitality of the form. "It's wonderful,
snappy and inspiring." Rolo Romig, The New Yorker.
Official Selection Hotdocs and Raindance Festivals, 2013