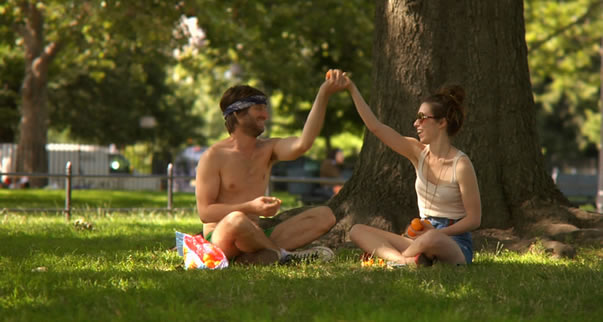 Gabi on the Roof in July
Directed by: Lawrence Michael Levine
2010 | USA | 99 minutes | Unrated
| | |
| --- | --- |
| Screening | Friday, November 4, 2011, 7pm - 9pm |
| Screening | Saturday, November 5, 2011, 7pm - 9pm |
This new microbudget indie film has the press seeing hints of past film greats Rohmer, Cassavettes and Allen.
"Gabi on the Roof in July is hipster Rohmer, with locovorism and nudism adding spice to laziness. It's a celebration and critique of that stage of life when one travels in packs and sleeps in piles, like hamsters." - MetroActive
"Gabi evokes a New York sentimentalist tradition that mixes the edge of golden era Cassavettes with the nostalgia of Woody Allen." - Box Office Magazine
Producer and actor (Gabi) Sophia Takal and Director and actor (Sam) Lawrence Michael Levine will be present for the Saturday screening. This was previously announced for the Friday screening.
Winner of Best Narrative Feature and Best Actress, Brooklyn Film Festival, 2010