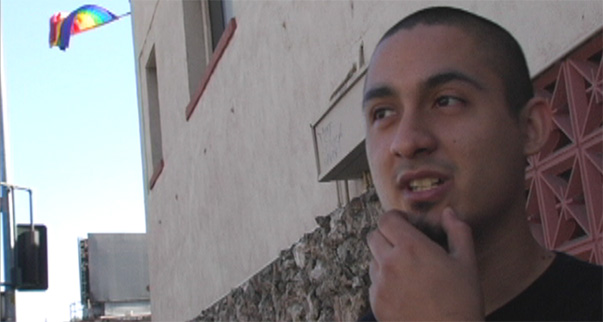 Gay Latino Los Angeles
Coming of Age
Directed by:
| | |
| --- | --- |
| Screening | Monday, November 12, 2012, 7pm - 9pm |
Free Admission, seats are first come first serve.
"Gay Latino Los Angeles: Coming of Age" is a docu-drama journey into the lives of three young men as they search for identity and grapple with issues of family, hypermasculinity, religion, culture, and desire in L.A. An undocumented immigrant hipster from Mexico, a Salvadoran activist and Berkeley graduate, and a Mexican American from South Central Los Angeles escaping gang life round out the cast. The film is interlaced and narrated with the poetry of Yosimar Reyes and the ceremonial choreography of an Aztec dancer further conveying the independent path toward self-discovery and self-acceptance.
Filmmaker and Producer, Jonathan Menendez, will be in attendance taking questions and comments following the screening.
For more information about the film see: www.gaylatino.la or contact Robb Hernandez at Robert.Hernandez@ucr.edu or Jennifer Doyle at Jennifer.Doyle@ucr.edu
A film by Jonathan Menendez