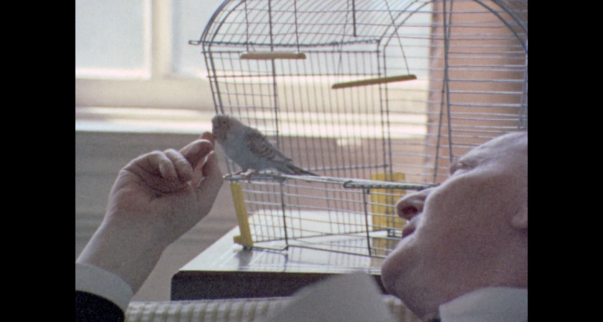 Isaac Singer's Nightmare and Mrs. Pupko's Beard
Directed by: Bruce Davidson
1972 | United States | 28 minutes
| | |
| --- | --- |
| Screening on select dates through | Sunday, July 18, 2021, 12am - 12pm |
In connection with the exhibition, Lift Your Head: Bruce Davidson and the Evolution of Seeing, UCR ARTS is pleased to present the digital world premiere of a Bruce Davidson film. View Isaac Singer's Nightmare and Mrs. Pupko's Beard, written and directed by Davidson in 1972, during select virtual screenings. Visit VIRTUAL UCR ARTS to register for select screening dates!

Film Screening Dates
Nov 19-22
Nov 25-Dec 7
January 8-10
February 5-7
March 5-7
April 2-4
April 30-May 2
June 4-6
July 15-July 18
ABOUT THE FILM
At the end of the 1960s, after years of photographing events of the civil rights movement and the residents of East 100th Street in Harlem, New York, Bruce Davidson became interested in making films. The third and final of the short films he made during this period, Isaac Singer's Nightmare and Mrs. Pupko's Beard, was inspired by a short story by Isaac Bashevis Singer, who later won the Nobel Prize for Literature in 1978. While Davidson's previous two films, Living Off the Land, and Zoo Doctor, were documentary in nature, Isaac Singer's Nightmare is a layering of truth and fiction. Based on Singer's short story, "The Beard," the film features the author and is set primarily in Singer's apartment, where he reads passages of the story and acts out certain scenes, and the Garden Cafeteria, a former Lower East Side fixture that Singer frequented. Perhaps the most memorable line from the story, "People have idiosyncrasies that cannot be explained by any theories," touches upon the mysteries of life that Singer captured in his writing and that Davidson appreciated deeply through his intimate approach to photography. As artists, Singer and Davidson seem to share the understanding that if you close the frame too tightly around a subject, whether in writing or in taking a photograph, there will be no room for personal interpretation and emotional growth.
A note about language: 
In Singer's short story, "The Beard," he writes of a "Negro" housekeeper whom the protagonist prohibits to reorganize his haphazard and dust-covered desk, and this word is also used in the film. In his 1967 book, Black Power: The Politics of Liberation, civil rights activist Stokely Carmichael urged people to stop using this word, as it was a term "invented by our oppressors." This antiquated term was used in the 20th century to delineate Black people from others, often with no justification. Does it matter that the housekeeper mentioned in "The Beard" was Black? Upon a close read, the answer is no.
Isaac Singer's Nightmare and Mrs. Pupko's Beard, 1972
Written and directed by Bruce Davidson
Digitized film, color, sound
28 min. 20 sec.
Courtesy of the artist